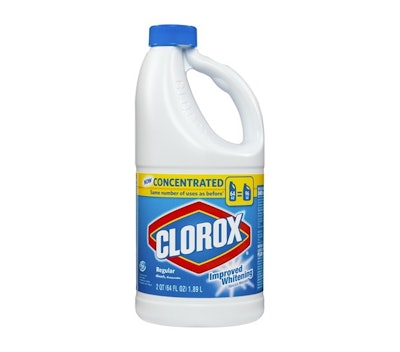 The iconic Clorox® liquid bleach jug is about to become a "collectible," says The Clorox Company, as a more modern, slimmed-down version that's easier to use makes its way into retail. In August, Clorox released new concentrated Clorox regular bleach, a more concentrated version of its namesake liquid bleach created to improve consumers' laundry and cleaning experiences.
According to the company, the newer bleach formulation will improve whitening of clothes and will significantly reduce the amount of water and plastic used—estimated at 20% and 17% to 18%, respectively—ultimately helping minimize Clorox bleach's and The Clorox Company's environmental footprint.
The new bleach comes in a smaller bottle that is easier to handle, easier to pour, and easier to use in high-efficiency (HE) washing machines. Most manufacturers have transitioned to HE machines, which have a smaller dispenser for bleach. To ensure people use the recommended amount to whiten and disinfect, the company decided to concentrate its product.
"Concentrated Clorox regular bleach was created for today's consumers to meet the need for a product that fits their lifestyle," says Benno Dorer, senior vice president for the Clorox Cleaning Division. "The Clorox Company has been in business for 100 years. To be successful over such a long period of time requires respect for tradition and quality, coupled with constant innovation in product improvements to keep delighting our consumers. The new concentrated bleach is just a more modern version of the same quality product that has been around for 100 years."
The company reformulated its bleach solution to create the concentrated version, reducing the amount required for laundry use. The change reduces the typical 96-oz bleach bottle by a third to 64 oz. This smaller size makes it easier to pour into the small compartments typically found in HE machines, Clorox reports.
The new concentrated Clorox regular bleach is currently available in some regions of the U.S., and will be available nationwide by the end of March 2013. New concentrated products will replace all regular Clorox laundry bleach products, except Clorox® Ultimate Care. To ensure consumers can easily identify it, the new bleach bottle will be labeled "now concentrated."
Companies in this article