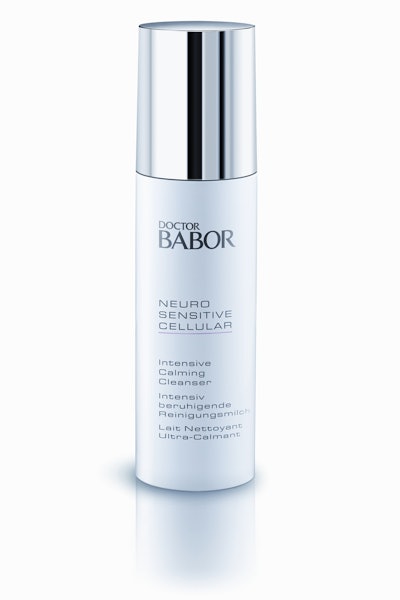 Professional skin care brand BABOR now employs Mega Airless dispensers for its exclusive line of DOCTOR BABOR neurocosmetic formulas.
The DOCTOR BABOR Neuro Sensitive Cellular Intensive Calming Body Cream and Intensive Calming Cream Cleanser feature a 150-mL Mega Airless Macro Compact dispenser, with metalized cap and self-sealing actuator with membrane. The complete dispenser with cap/container and piston features seven parts. The pump itself includes four parts, injection-molded of polypropylene, polyethylene, low-density PE, and high-density PE. Parts are assembled automatically.

The company's DOCTOR BABOR Neuro Sensitive Cellular Intensive Calming Cream Rich and Intensive Calming Cream are based upon similarly specified Mega Airless 50-mL Macro Slim dispensers.
The Aachen, Germany-based brand's launches are available in BABOR-branded cosmetic institutes and exclusive spas at the world's most prestigious hotels. Used by select professionals worldwide, the DOCTOR BABOR Neuro Sensitive Cellular's advanced formulations are natural and preservative-free.
"The professionals who use and recommend BABOR stake their professional reputation on our products," says Nicole Perau, director, product management, BABOR Cosmetics. "Our DOCTOR BABOR Neuro Sensitive line was developed for hypersensitive and extremely dry skin. Thus, we needed packaging that complements this advanced formula and protects it—and the Mega Airless dispenser was the perfect choice."
Perau notes the packaging is sterilized before filling, enabling BABOR to keep the product completely preservative-free. "Thanks to Mega Airless' unique self-sealing actuator, the product is perfectly protected from environmental influences or contamination afterwards."
Mega Airless' neutral dispenser design is quick to prime and permits complete 360-degree application, exact dosing, efficient evacuation, and
formula stability over the life of the product, without drying, discoloration, drips, clumping, or clogging.
Mega Airless' German-engineered lotion dispensers provide complete neutrality, to protect the formula, and extend shelf life. All-plastic design means recyclability that appeals to customers, retailers, and end users.
BABOR Cosmetics was founded by Dr. Michael Babor in 1956. Today, the company is recognized for its exclusive skin care and wellness products, effective ingredients and professional treatment systems. An international company with a family tradition, the company's beauty products are created in Germany and are available in 60 countries, as well as via www.babor.com.