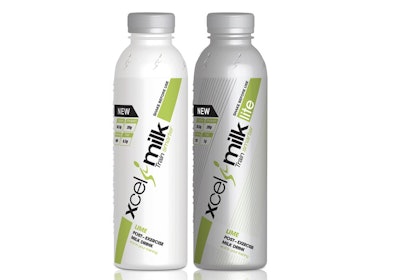 Xcel Milk, a unique post-exercise recovery drink based on fresh milk that encourages consumers to "train smarter," has been released in the U.K. in a 500-mL bottle made from recycled PET. The packaging was created by Division Kavo of Greiner Packaging Intl. and is said to reflect the performance-enhancing properties of the contents.
According to Greiner, brand owner Xcel Milk Nutrition Ltd. had three distinct requirements in mind when it sought out a packaging supplier for the project: extensive experience with dairy products, geographical proximity to its British location in South Derbyshire, and sophisticated technical know-how.
Division Kavo worked with design consultants TGL Creative to create a classic, yet simple milk bottle shape that sits well in the consumer's hand. Embossed branding that aids in gripping the bottle, inclined lettering, and multicolor printing provide for a dynamic look. The bottle is produced using injection/stretch blow-molding technology. High-quality rPET was selected to meet consumer demands and save resources.
The basis for the brand came about when market research by Xcel Milk Nutrition unveiled a gap in the U.K. market: There were no fresh, pasteurized milk beverages that had been targeted for consumption by athletes after exercise. Xcel Milk was developed in close cooperation with renowned sports scientist Professor Ronald Maughan. For performance-minded athletes, the drink is utilized as an integrated element of their training program and will be exclusively distributed in Great Britain, beginning in late August 2012.
The main ingredient of Xcel Milk is fresh, high-quality milk from pedigree Jersey cows. Additional ingredients are delivered by "Informed Sport" registered suppliers, assured under the FEMAS certification program.