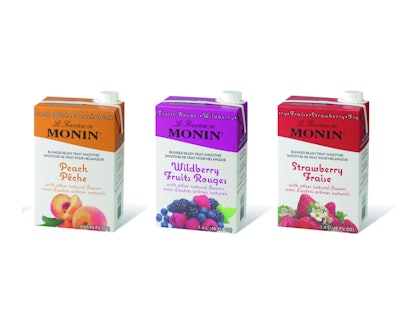 Monin Gourmet Flavorings, a leading global manufacturer of premium syrups and flavoring products, with U.S. operations in Clearwater, FL, has launched a new range of smoothie mixes for foodservice. The new range, in five flavors, features ready-to-serve mixes made from real fruits and natural ingredients, designed to be poured over ice and blended to create refreshing frozen drinks.
The mixes were launched in the U.S. in April, in the 46-oz combiblocMaxi aseptic carton with a combiSwift screw cap, from SIG Combibloc.
At the Specialty Coffee Association of America's (SCAA) annual show, held in April in Portland, the new Monin range in the aseptic carton pack was presented for the first time, and scooped the "Best New Product – Specialty Beverage" prize. The competition awards prizes to innovative products in nine categories, on the basis of their quality and the value to the industry. The new Monin fruit smoothie mixes won the award for their superb flavor, their quality, their convenience, and their natural taste.
Companies in this article