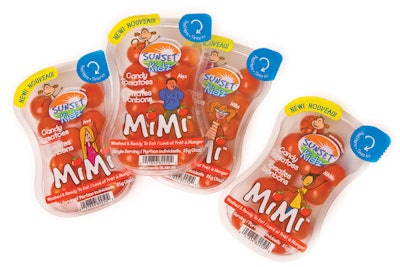 Mastronardi Produce Ltd., Kingsville, Ontario, Canada, is one of the largest greenhouse companies in North America. Under the SUNSET® brand, the company provides gourmet tomatoes, peppers, and cucumbers year-round as well as seasonal products like eggplant, asparagus, and berries.

With an interest in promoting the nutritional value of fresh produce and making these products more appealing to kids, Mastronardi developed a novel, on-the-go snack and lunch-box packaging option for cherry tomatoes. The company originally introduced SUNSET® Kidz™ MiMi™ "candy" tomatoes in 2008, and now markets the product to a variety of customers throughout North America and through some private label programs.

The hand-packed, hand-graded cherry tomatoes are packaged in a state-of-the-art, refrigerated packaging room, featuring positive-pressure HEPA-filtered air. Sanitation features include computer-controlled water temperature, separate chemical distribution system for product wash/dry operations, and complete wash down with multiple floor drains.

After the tomatoes have been washed and dried, they go on another attached conveyor and are routed into a bin with eight scales that weigh the tomatoes to 90 to 105g. Each scale then dumps the product onto its own chute, gently rolling the tomatoes into the waiting trays on the packaging line. Workers then grade the filled trays before they are heat sealed shut. In a one-stage sealing process the film is clamped to the tray lip as the film simultaneously is cut along the edge of the tray and the tray is released from the film roll. The sealing process takes approximately two seconds per tray.

The clear plastic, single-serving trays (supplier name not disclosed) are made of recyclable PETE and hold 3-oz volumes of cherry tomatoes. The contours of the small trays allow them to fit into a small hand for easy portability. The trays are sealed with breathable, tear-away, clear lidding film. The film is flexographically printed in up to eight colors, and bar codes are preprinted on the film. Date and lot codes are applied via stationary ink jet printer head.

Estimated non-refrigerated shelf life of the packaged cherry tomatoes is approximately three weeks, depending on handling and storage conditions at the retail and consumer levels. No modified or controlled atmosphere gases are used within the packaging. Shelf-life extension is achieved due to a combination of the tomato seed variety used and the tray-pack lidding film, which is a proprietary-formula film from DuPont.

Mastronardi Produce also markets the single-serve trays in 8-count club-pack paperboard cartons. The cartons, with printed graphics, are manually set-up, and the trays are hand-loaded into the cartons.