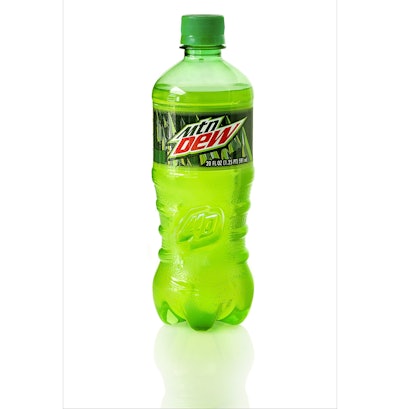 Mountain Dew has broken from the PepsiCo pack, reenergized with a distinctive, new PET bottle design that more fittingly meets the brand's promise of "a robust spirit of fun, exuberance, and refreshment." That's according to Stuart Leslie, president of 4sight, Inc. (www.4sightinc.com), the structural design firm that closely collaborated with PepsiCo to create an ownable brand equity for the 70-plus-year-old citrus-flavored soda that today is associated with a hip, sporty lifestyle.

For years, Mountain Dew shared the same 20-oz PET bottle design as almost all of PepsiCo's other beverage brands, a packaging platform that most likely developed due to manufacturing efficiency, Leslie surmises. "But PepsiCo knew that there were certain brands that were really dying for a more appropriate bottle that would help reinforce the brand better," he says. "Mountain Dew was on the top of the list."

The process of creating a distinctive bottle structure for Mountain Dew was rife with challenges, not the least of which was meeting the operational requirements of countless local PepsiCo bottlers. But the close collaboration between 4sight and PepsiCo allowed long-held operational beliefs to be challenged, and design innovation flourished.

Operational breadth lends design complexity
As Leslie explains, a typical beverage client for his design firm may have two or three manufacturing plants, with a couple of filling lines in each facility. "The world of the sodas—the Pepsi's and the Coke's—grew up much differently," he explains. "They grew up with these very local bottlers and distribution centers. So they have hundreds of bottlers. Each one of these is a plant, and each one has a number of lines that, over the years, they have set up to their preferences.

"Therefore, the biggest challenge we had [in creating the new Mountain Dew bottle] was working within this very complex infrastructure that is very difficult to even get your mind around."

One of PepsiCo's contributions to the project was work they had recently done with engineering consultants to quantify what types of systems exist within the PepsiCo bottling operations and where. This allowed 4sight to focus on a representative subset of the company's operations during the bottle design process.

Among the design constraints, the new bottle had to maintain the same following attributes as PepsiCo's flagship 20-oz bottle:
• Diameter
• Height
• Label diameter, though not necessarily the same label length or location
• Neck finish
• Preform weight
"After visiting some of the PepsiCo plants, we basically built a checklist of each piece that we couldn't change, and then which pieces we could change," says Leslie. "Then we used that as sort of a skeleton to design around."

Leslie says that part of the value of being an outsider in PepsiCo's plants was that it enabled his team to question long-held beliefs by PepsiCo operations about technical requirements. "There were a lot of 'Aha!' moments that were interesting," he says. "For years, PepsiCo believed that things had to be a certain way due to technical requirements. But after real investigation, it turned out that they weren't requirements; they had just been thought of that way for so long that they were accepted as some kind of inherent truth.
"When we came up with questions, such as 'What would happen if you made the bottle taller? What would have to be replaced?,' we blew out the technical parameters, and all of a sudden, there were some real creative opportunities."

Another challenge of the design process was meeting PepsiCo's sustainability expectations for a lightweight bottle, while creating brand equity through unique shapes and curves in the structure. "We had to design something that could use the same light weight preforms [as the rest of PepsiCo's bottles], but do it in a way that we could create for the consumer a whole different experience with the brand and the bottle," explains Leslie.

Designing within these constraints entailed a lot of finite element analysis (FEA), the creation of many structural designs, and numerous tests with unit cavity tools, bottle blow molding, and finished bottles, Leslie relates.

Texture, shape evoke energy
The new Mountain Dew bottle, which at presstime has been test-marketed with great success in Indiana and the Carolina's region, exudes elements of activity, adventure, and fun. Its distinctive silhouette provides the package with a solid shelf presence, while its profile is "distinguished by a degree of strength and energy to capture the attention of consumers," says 4sight.

A label less than half the size of the brand's previous label decorates the upper portion of the package, allowing the bottle's shape to be the point of differentiation for the brand. Solidifying the structure as purely Mountain Dew, an "MD" logo is embedded in the lower half of the bottle, surrounded by a newly styled grip area. Textural elements add excitement to the bottle, with the grips conjuring up the laces of a football, and the texture between the laces taken from the texture of a basketball.

"All of the textural elements are taken from things that already cue active, on-the-go, living life to the fullest, and just being active," says Leslie.

A broader, more substantial base was also used to help consumers more confidently clutch the bottle, along with help from the grips. "The bottle also feels great in people's hands," says Leslie. "They love holding it, and they love drinking from it."

Leslie says the success of the Mountain Dew bottle redesign can be attributed in large part to the high level of collaboration between 4sight and PepsiCo. "It's the key to innovation," he says. "You've got to be so well grounded in operational constraints that the home run is going to come from something that just tweaks around the current equipment in such a way that the equipment is pretty much the same as it always has been, but the consumer sees something entirely different. Real collaboration allows you to find a way to deliver a whole different consumer experience, but do it within the context of the current line."
Companies in this article