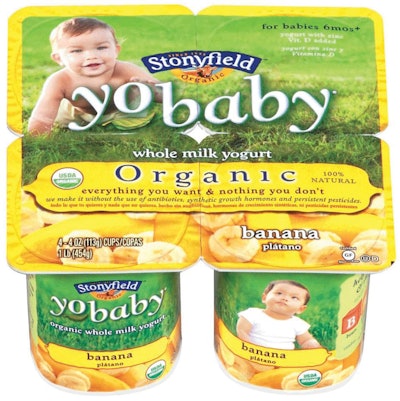 Organic yogurt producer Stonyfield Farm came into the Greener Package Awards with every "t" crossed, and every "i" dotted. From packaging-material feedstock to container end-of-life options, the Londonderry, NH, company had done its due diligence when switching from a high-impact polystyrene yogurt cup produced using form/fill/seal technology to one containing 93% renewable polylactic acid plastic. This attention to detail, as well as the new pack's 48% reduction in global warming potential versus petroleum-based packages, netted Stonyfield an Environmental Impact award in the FDA-Regulated category of this year's competition.
This change to corn-based PLA in October 2010 (as detailed in the December issue of Packaging World: packworld.com/video-30879) was the result of a year-long study of the proposed package's life-cycle impacts. In Stonyfield's Greener Package Awards entry form, the company listed five factors distinguishing the project:
1. Made from plants: The container is made from Ingeo PLA resin from NatureWorks LLC that is made into rollstock by supplier Clear-Lam Packaging. The material contains 93% bio-based resin joined with whiteners and other additives to enable the f/f/s process.
2. Sustainable feedstock production: As Nancy Hirshberg, Stonyfield's vice president of strategic initiative, shared with PW last year, sustainable agricultural practices are at the heart of Stonyfield's business. "In order for us to move forward with this, we needed to feel good about the way the corn was grown," she said. Because NatureWorks cannot guarantee that feedstock used for the resin in Stonyfield's cups is non-GMO corn, Stonyfield became the first major purchaser of offsets through the Working Landscapes Certificates. Modeled after Renewable Energy Credits (RECs), WLC ensures that an equivalent amount of corn as needed for Stonyfield's cups is grown to sustainable agricultural standards.
3. Open sourcing: As PW's extensive coverage of Stonyfield's PLA cup project attests, the yogurt producer has been committed to transparency when it comes to the details of the switch. By doing so, "CE-Yo" Gary Hirshberg revealed, Stonyfield hopes to move the technology forward. Since it launched its PLA package, Stonyfield has shared its experiences with Danone in Germany, which launched its own PLA yogurt cup in May (see packworld.com/news-31848). Says Nancy Hirshberg, "We've had many, many groups from within Danone come and visit us to learn not only about the technical aspects, but also about some of the other issues, including the WLC and the work we did in our marketing messages."
4. Hazard screen: Stonyfield hired Pure Strategies to compile a list of 2,600 chemicals prohibited from use in the yogurt packaging. Among them: carcinogens, mutogens, reproductive toxins, endocrine disruptors, Persistent, Bioaccumulative, and Toxics (PBTs), and metals. "It was important to Stonyfield to assure our consumers that we had done our due diligence to assure the health and safety of the materials and addressed concerns," says Stonyfield's entry form.
5. End of life: Although PLA, like the HIPS it replaced in Stonyfield's yogurt cup, is not currently recycled in most communities, two companies exist (one in the U.S.; one in Belgium) with the capabilities to chemically recycle PLA back into lactic acid. As Nancy Hirshberg shared with PW, Stonyfield is in the early stages of a pilot with Belgium's Galactic to evaluate the recyclability of its packaging.
When it comes to the all-important LCA data, Stonyfield told Greener Package Awards judges that it verified its figures with a proprietary LCA tool developed by Danone that measures the carbon footprint of products from cradle-to-grave. Using this tool, Stonyfield says it has reduced 69.97 kg/CO2 equivalent per 10,000 4-oz cups.


Companies in this article