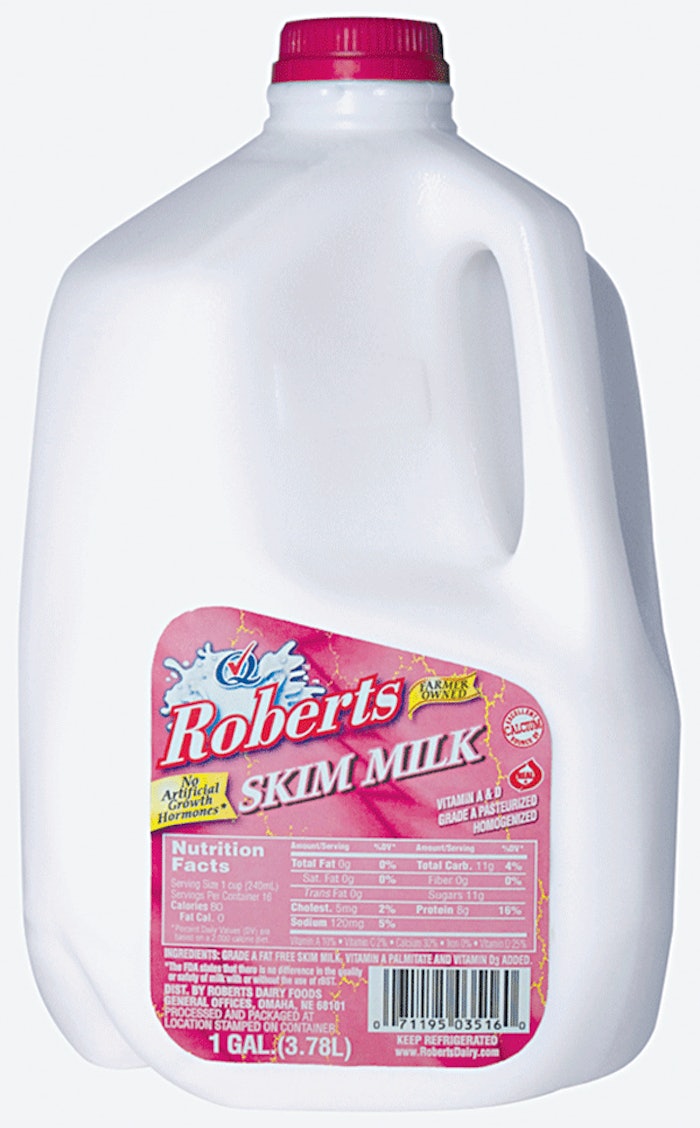 Roberts Dairy Foods, Omaha, NE, puts its namesake milk through rigorous quality testing, and it is leveraging the label on its milk cartons to reflect the product's high standard.
The new label brings back the symbol of quality from Quality Chekd, a red check mark inside a blue-colored letter Q. That symbol signifies Roberts Dairy Foods as a Quality Chekd dairy. Quality Chekd uses an independent laboratory to test Roberts Dairy Food products monthly. The products undergo bacterial and chemical product testing, in addition to certification of the milk containers, to assure top-quality freshness and flavor.
The dairy further signifies the freshness—and the refreshing taste of the milk—with a colorful illustration of a milk splash on the label. "Roberts Dairy Foods' new logo shows a splash of fresh flavor, putting a 'splash' visual element to the quality and freshness that have become synonymous with the company's products," says Al Streeter, marketing manager at the dairy.
Streeter adds, "Roberts Dairy is proud to be a fresh and local product. The new 'splash' logo associated with the new label comes along with the tagline, 'A splash of fresh flavor,' to support our fresh and local marketing campaign."
The label also provides enough real estate for two banners communicating the brand's secondary messages of "Farmer-Owned" and "No Artificial Growth Hormones."
The pressure-sensitive labels are provided by KDV Label (www.kdvlabel.com) and are flexo-printed in six colors. {SI!}
Companies in this article