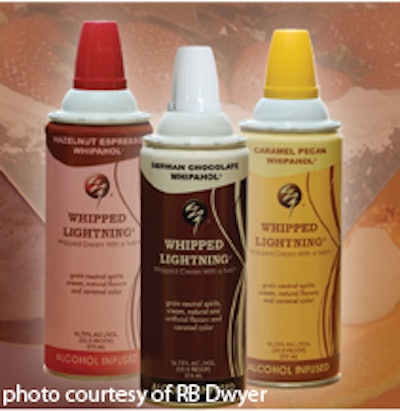 Whipped Lightning, a new alcohol-infused whipped cream product line, or "whipahol," from Maple Grove Products, Atlanta, uses full-body shrink-sleeve labels to give its aerosol package a striking on-shelf appearance. The labels, from The
RB Dwyer Group
, are made of heat-shrinkable polyvinyl chloride chosen specifically for the project. The PVC film allows the label to shrink to the contours of the aluminum can, which curves at the top to allow for nesting. Containing grain alcohol, the product is a non-refrigerated topping.
RB Dwyer converts six colorful labels for the line that reflect the delicious flavors offered, including Hazelnut Espresso, German Chocolate, and Caramel Pecan, among others. The labels are flexo-printed on a 10-color press in four to six colors, depending upon variety. Maple Grove purchases the cut sleeves and uses a heat tunnel to quickly and uniformly label the cans.
Paul Urbanowicz, president of Maple Grove, expects to produce other distinctive flavors as well as launch a sample-size whipped topping in the future.
Companies in this article