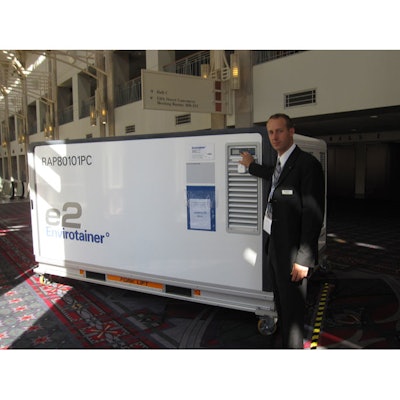 If it sounds too good to be true, we're advised, it probably is. But switching from traditional shipping containers and materials to more sustainable options yielded environmental benefits and financial savings in excess of $1 million a year for the packaging changes enacted by Medtronic Spinal & Biologics for its INFUSE® Bone Graft product.
Those "good news" benefits were reported by Robin Turner, director, global packaging development for Medtronic Spinal & Biologics. "We estimated cost savings of about $500,000 per year a few years ago before we ever had experience shipping product in the cold chain," she said in her presentation, "Redesigning Long-Haul Shippers to Reduce Cost and Environmental Footprint."
The results turned out to be much better than that prediction, said Turner at the Sept. 21 "Green and Innovative Packaging" session during the 8th Cold Chain Distribution for Pharmaceuticals Global Forum at Philadelphia's Pennsylvania Convention Center.
Medtronic reduced the number of pack configurations, shipper sizes, the thickness of insulated foam within the shipper, and the number of gel packs necessary for cold chain shipments. Those decisions reduced labor costs associated with packing, required less energy in refrigeration and transport, and cut down on the amount of packaging waste its customers had to handle.
Turner explained that Medtronic is now shipping "five or six different temperature-sensitive items and is going to explore options with returnable packaging."
Talecris emphasizes cold chain control
Recognizing that the lives of patients around the world depend on its human plasma products, Talecris Biotherapeutics emphasized the significance of the cold chain. The company works with its supply chain partners to deliver its fragile proteins safely from the veins of donors to the veins of patients.
Controlling every step of that chain was the focus of "Cold Chain—A Business Critical Function," the event's keynote address, delivered by Mary Kuhn, executive vp, operations, for Talecris.
Dr. Rafik Bishara, the event's chair, noted that 527 people attended the event, 200 more than last year. Exhibitor numbers rose significantly as well, with 56 companies displaying booths. The Sept. 20-23 event is managed by the Intl. Quality & Productivity Center. Healthcare Packaging served as a media partner.
"Our products can take more than a year to develop," Kuhn explained. "So Talecris needs robust cold chain logistics. The benefits of cold chain control for us is that patients receive what is sometimes life-saving treatment, we [virtually eliminate] temperature excursions, reduce our insurance premiums, provide data to support regulatory needs, and improve relationships with our partners throughout the supply chain."
Kuhn said that Talecris continues to evaluate different containers for its varied cold chain shipping needs. For international shipments, she praised containers sourced from Envirotainer.
In the accompanying photo, Envirotainer® RAP e2 container is shown at the Philadelphia Cold Chain event by Cyril Winkler, an Envirotainer product manager based in Switzerland. This particular container uses electrical heating and cooling to maintain temperature control.
Kuhn and Bishara both pointed out that new Transportation Security Administration guidelines require that all cargo leaving the U.S. must be screened, and inbound cargo will have to be screened by 2015, adding another challenge to international cold chain shipments.
Regulatory implications
Providing repeatable proof of cold chain practices benefits a company's regulatory efforts as well. That's critical, said Ian Holloway, manager, Defective Medicines Report Center for U.K.-based Medicines and Healthcare products Regulatory Agency. In his presentation, "Observations and Guidance for Conducting Regulatory Compliant Cold Chain Operations," Holloway said, "Regulatory people don't like surprises, risks, or unplanned events."
Looking toward the future, he said, "humidity is gaining as a concern for bulk tablets and active pharmaceutical ingredients. But it goes beyond product damage, to defects and problems with packaging materials, including mold growth, and the loss of adhesion where labels may drop off packages."
He listed pressure that can cause problems for prefilled syringes as another potential problem, and noted that developing technologies such as nanotech-based products could possibly compromise drug delivery due to humidity concerns.
Also on the regulatory side, Dr. Mary Foster welcomed industry participation in helping to shape "The Final Updated USP <1079>: Validating and Documenting Each Step of Your Cold Chain." Foster is the chair, Packaging and Storage Expert Committee with U.S. Pharmacopeia, and vp of quality with Catalent Pharma Solutions. To have voice in shaping Chapter 1079, contact her at [email protected].
Event presentations will be available for attendees to download in the near future. Presentations will also be available for $500 to those who were not able to attend by calling Keith Esca at 646/502-3258, or e-mailing him at [email protected].
Companies in this article