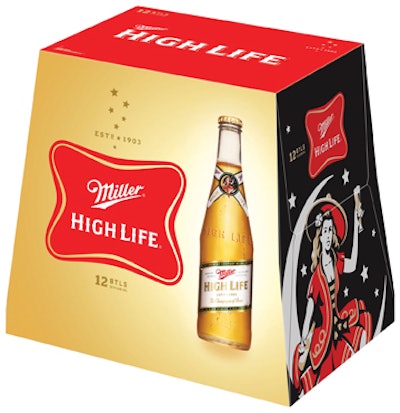 The new "tower-shaped" cartons for 12-count bottles were designed in collaboration with branding and packaging design consultant
Landor Associates
.
Curtis Babb, director for packaging materials and development at MillerCoors, reports that the new cartons were introduced to national retail markets in May 2010. They're constructed using beverage-grade paperboard with 26-point wet-strength thickness. Graphic Packaging supplies and gravure prints the carton materials. MillerCoors runs the cartoning material on cartoning equipment from Oystar Jones and others.
Miller High Life packaging was last changed significantly in 2003. With the 2010 update, the brewer wanted to maintain and enhance the product's positioning, while better differentiating the beer from other brands in the marketplace. The new design increases shelf visibility and retains the iconic "Girl in the Moon" imagery and "Champagne of Beers" logo.
Companies in this article
Videos from Graphic Packaging Intl.