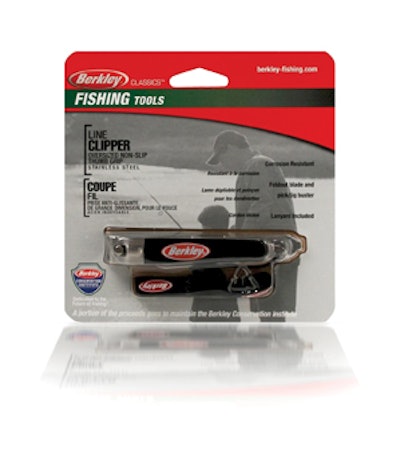 Pure Fishing, a subsidiary of Jarden Corp., Columbia, SC, will take a leadership role in value-added packaging in the category by presenting 35 products in its Berkley Classic Tools line in new packs that will ease consumer hassle and also provide environmental benefits. The packaging will debut this fall.
Berkley products—fishing tackle, lures, rods, and reels—will be packaged in sustainable and secure Natralock® packaging from MeadWestvaco.
"We'll have enhanced visibility of the Berkley product with glare-free surfacing and improved graphics," says David Lund, Pure Fishing vice president of marketing-The Americas. "Opening the new packaging requires no special tools, just a pair of scissors that leaves a smooth, safe edge. Gone are the hazards of the ragged edges and the frustrations from opening the clam packs."
The Natralock package that Pure Fishing will be using for its Berkley line consists of paperboard that contains up to 30% recycled materials, and also a thermoform blister.
Pure Fishing expects the new packaging will reduce plastic usage by 67%, compared with traditional clamshell packs. In addition, the annual reduction in plastics bound for landfills is estimated at 77 tons, and the costs for shipping the Berkley brand products will be reduced because the weight of the plastic is 29% lighter than the previous packaging.
"As brand owner, retailer, and consumer demand for better packaging continues to increase, Pure Fishing's selection of Natralock will further elevate the value that packaging brings to a company's overall environmental goals and retail differentiation," adds Jeff Kellogg, vice president of MWV's Natralock.
Companies in this article