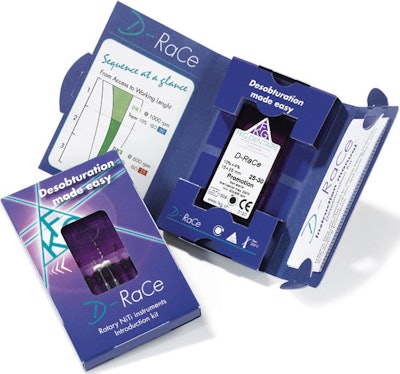 An elegant, compact package with a viewing window and package insert in a side flap helped the special "D-RaCe" wallet pack win the 2009 Pharmaceutical award from Pro Carton/ECMA, the Assn. of European Cartonboard and Carton Manufacturers.
Rondo AG developed the credit card-sized package for Switzerland-based FKG Dentaire's dental tool. Rondo belongs to the Körber Medipak Group, the pharmaceuticals division of Hamburg's Körber Group. Carton board blanks are provided by Iggesund Paperboard Europe.
The D-RaCe visually highlights the dental tool's contents through its transparent viewing window. This window is particularly practical and useful in this case, where FKG Dentaire also packages other tools for dentists' use in the wallet. The window enables the dentist to see the type of tool inside at a glance.
The pack also offers ease of handling. Once the wallet has been opened, the tools can be removed easily. The tools are secured in the packaging until they are removed. The inserted booklet is also easy to remove and provides space for information.
Rondo prints the special wallets for FKG Dentaire in the company's corporate identity colors, with the appearance of the packaging further enhanced by a dispersion varnish finish. Körber Medipak employs a total of 720 people and achieves annual sales of approximately 110 million euros.
Pro Carton's main purpose is to promote the use of cartons and carton board to brand owners, the trade, designers, the media, and politicians as an economically and ecologically balanced packaging medium. Every year, the association organizes a contest rewarding the best ideas.
Companies in this article