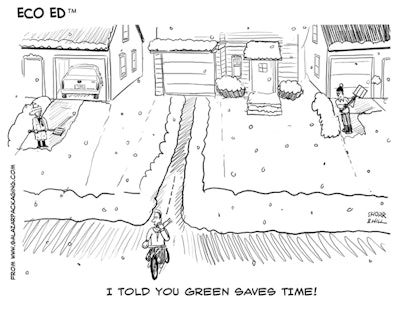 ■ In January, Coca-Cola and United Resource Recovery Corp. (URRC) joined government leaders and environmental experts at the grand opening of the world's largest plastic bottle-to-bottle recycling plant. Coca-Cola's goal is to recycle and reuse 100% of its bottles and cans in the US. When fully operational, the recycling plant will produce approximately 100 million pounds of food-grade recycled PET each year—the equivalent of nearly 2 billion 20-oz Coca-Cola bottles. Over the next 10 years, the plant will prevent the release of 1 million metric tons of carbon dioxide emissions—the equivalent of removing 215,000 cars from the road. In addition to environmental benefits, the 30-acre Spartanburg, SC, plant has created 100 new jobs. At the event, Coca-Cola announced the launch of a multimillion-dollar marketing effort supporting recycling called "Give it Back."
■ Dell announced that the company will reduce its desktop and laptop packaging by 10% over the next four years, a move Dell says will save 20 million pounds of packaging materials and more than $8 million. In addition, Dell says it will increase the amount of sustainable content in its cushioning and corrugate packaging by 40% and ensure that 75% of its packaging components are curbside-recyclable by 2012.
■ KFC in the U.K. and Ireland now serves its classic chicken meals in paper bags instead of boxes and uses paper wrappers for burgers rather than paperboard clamshells. Paper will also replace foil wrapping. Sustainably farmed European forests provide the fiber for the new 100% recyclable packaging. The initiative will reduce the amount of packaging KFC uses by 1,400 tons.
■ The Wine Group, California's second largest wine producer by volume, replaced its 187-mL single-serving glass bottles for the Glen Ellen and Fish Eye brands with environmentally friendly 250-mL Tetra Pak cartons. Four 250-mL cartons are sold as a portability pack. The pack offers consumers 33% more wine than a 750-mL bottle or four 187-mL single-serving bottles. This packaging has a 50% smaller carbon footprint than glass bottles of equivalent volume.
■ The Museum of Brands, Packaging, and Advertising, London, has requested companies to submit examples of sustainable packaging for a new exhibit opening March 31 to info@museumofbrands.com. The Packaging Our Sustainable Future exhibition will examine how manufacturers and retailers are working to reduce the environmental impact of their products.
Companies in this article