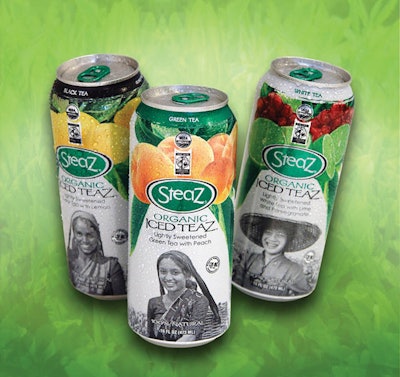 These razor-sharp images are providing marketers the extra shelf pop they need to give their brand an edge.
A new wrinkle in this trend, seen in beverages, is photographic images being printed directly on the can. Typically, images and graphics are printed on shrink-sleeve labels, which are then adhered to bottles and cans.
Healthy Beverage Co., Newtown, PA, is one brand owner introducing cans printed with photographic images. The company is rolling out its Steaz Organic Iced Tea line, devoting a significant part of each 16-oz can to photography of fair-trade farmers in Sri Lanka, China, and Africa who provide the tea.
Eric Schnell, Healthy Beverage co-founder, says Healthy Beverage had been considering printing on shrink sleeves, concerned that printing directly on the can surface would produce "cartoonish" images. Then the company approached Rexam Beverage Can (www.rexam.com) to produce the high-quality photography printing on-can.
Rexam provides the cans for Steaz and also does the printing using its integrated graphic art and printing plate operation, complete with a manufacturing pilot line.
"It was important in printing that we keep the integrity of the farmer. We did not want the farmers to look like fake people," Schnell explains. Equally important, depictions of fruit at the top of each can, which help signify flavor variety, needed to look real as well. The fruit is printed in color to provide vibrant contrast with the black-and-white photos of the farmers.
Gene Pawula, director of customer service and graphic arts at Rexam, details several keys that bring about the high-quality, six-color screen printing. First, the entire can is printed with a base coat of white. Next, wet-on-wet printing is used to achieve the sharp detail and soft look in both the photography and the fruit images. Finally, an end-of-line proofing operation enables adjustments to artwork and colors.
With this approach, Schnell says Healthy Beverage is able to achieve consistent production quality on cans for six varieties in the Steaz line: Green Tea with Mint; Green Tea Unsweetened with Lemon; Green Tea with Blueberry Pomegranate Acai; Green Tea with Peach; White Tea with Lime and Pomegranate; and Lightly Sweetened Black Tea with Lemon.
Companies in this article