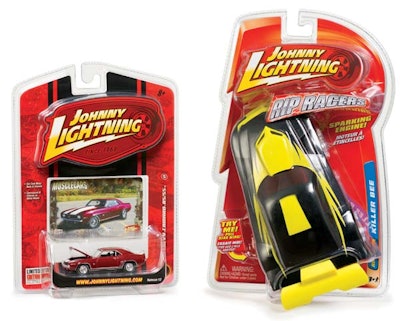 A number of "heritage" brands have been restaged to become relevant to contemporary shoppers and to compete against a flurry of new products. While this trend is prominent in food and beverage aisles, it's also playing out in the toy department.

Johnny Lightning, a brand of die-cast cars from RC2 Corp., Oak Brook, IL, got the jolt it needed by refreshing its brand identity and leveraging its considerable equity with longtime fans to become more relevant to young consumers. The company, working with Design Force (www.designforceinc.com), accomplished these objectives by researching what loyal fans enjoy most about the brand and then reflecting the "wow" factor through packaging and other visual communication that's different for collectors and toy enthusiasts.
Research revealed that Johnny Lightning's impeccable accuracy on 1:64 scale die-cast cars attracts both collectors and kids because of attention to detail, appealing colors, and low-friction wheels. The research, along with an audit of the die-cast car category, provided direction for a new, cohesive branded look and different packaging for both toy enthusiasts—they're mostly young boys—and collectors.
"In order to maintain and capture additional market share in the collector's die-cast car market, as well as the kids' market, the brand had to be effectively segmented through its packaging," says Greg Miller, senior vice president of consumer teams at RC2 Corp.
The solution was a clamshell for both the toy and collector packaging. But different color schemes and die cuts distinguish each package type. For the collector cars, a black center panel punctuates the red background on the graphics card inside the clamshell. Retro racing stripes appear on either side of the panel. This area provides contrast to the raised brand identity panel on the clamshell. Subtle screen images of vintage cars and concise textual communication also signal a collector's item.
The toy car's package design features a jagged lighting bolt die-cut down the left side of both the clamshell and graphics card. Speed lines on the front panel animate the motion of the upward arc of the Johnny Lightning typography and vintage wheel.
Toy-car packages also feature a "try me" element. When the exposed rear spoiler is pulled, the back wheels rev and sparks fly from the engine—a thrill for young boys.

Companies in this article