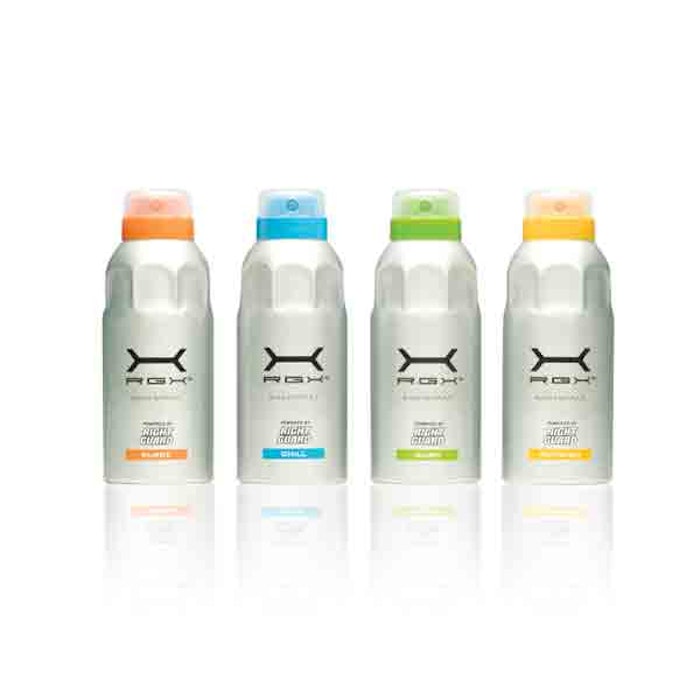 Definitely, says Brian Houck, director of package design at Dial Corp., Scottsdale, AZ. He cites Dial's launch of RGX body spray, marketed under the Right Guard brand, as an example.
Men's body sprays are becoming more prominent in the deodorant aisle, but many have strong scents lacking widespread guy appeal. Dial created RGX as a niche product with a softer scent and put it in a masculine-looking package.
Before designing the package, Dial and Wallace Church (www.wallacechurch.com) spent time talking with young men about to graduate from high school, learning about how their dreams and aspirations might affect their attitudes toward personal grooming and style. Out of those talks emerged about five package design concepts.
"It was important to the guys that we spoke with that RGX was aligned with Right Guard, but to not be the Right Guard brand. They said, 'If you just make it look like Right Guard and I don't use Right Guard, I'll pass you by,'" Houck recalls.
Rather than deliver RGX in a "me-too" package with black containers and abstract or suggestive imagery, Dial markets RGX as refined, with clean graphics and colors on brushed aluminum cans. These visual features appeal to a more mature consumer, Houck says.
Dry offset printing delivers the package's sharp graphics. Color distinguishes the four fragrances on the polypropylene spray closures from Seaquist Closures (www.seaquistclosures.com).
Companies in this article