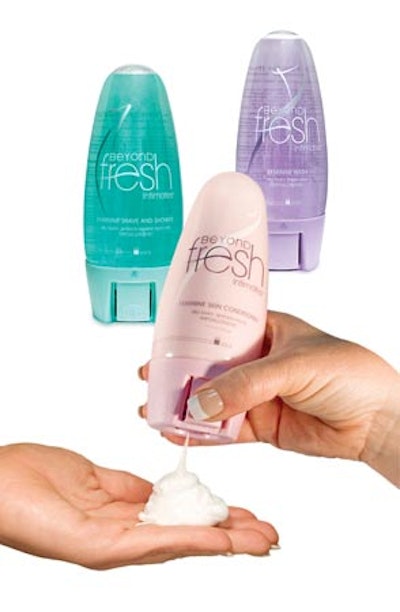 The three product varieties are injected with carbon dioxide so that when a woman pushes a press tab actuator on the dispenser, the gel or lotion product comes out as foam. Lake says the foam lathers without the use of a sponge or washcloth and protects against skin agitation.
SeaquistPerfect Dispensing (www.seaquistperfect.com) supplies the injection-molded polypropylene dispenser with actuator, as well as an aerosol valve that is crimped to the mouth of an inverted polyethylene naphthalate (PEN) bottle from Graham Packaging (www.grahampackaging.com).
From its plant in Decatur, AL, BP Chemical (www.naphtalates.com) provides dimethyl-2.6-napthalene dicarboxylate (NDC) in a powder form that's used to make PEN resin by Teijin (www.teijin.co.jp/english).
Graham stretch/blow-molds the clear container from that resin. Graham refers to the container as a pressure vessel. The transparent containers allow consumers to see the colorful hues of the gel product inside—purple for Feminine Wash, green for Feminine Shave and Shower, and pink for Feminine Skin Conditioner.
According to Graham, the Beyond Fresh Intimates vessels are the first to use plastic for pressurized dispensing, a function typically executed in aluminum or steel containers. Plastic also withstands wet and humid conditions in bathrooms, without the possibility of leaving a rust ring on the bathtub ledge.
A clear shrink-sleeve wraparound label printed with product information, usage directions, precautions and ingredients, and a separate tamper-resistant pull band complete the package. A graphic is printed onto the front of the shrink-sleeve label with an arrow that points from a lock position to an open position. By holding the dispenser bottom and turning the vessel, the consumer can lock or reclose the container to prevent product leakage. Packaging components are shipped to Lake's Jackson, WI, plant for filling.
"It was important for the packaging of this product to match the groundbreaking formula it contained," says Mike Kermendy, director of marketing for Lake Consumer Products, a subsidiary of Jackson, WI-based Wisconsin Pharmacal Co.,LLC. "We developed the inverted plastic bottle to position the product as unique and make it easy for people to spot Beyond Fresh Intimates when they're on the shelf at their local grocery store, drug store, or mass retailer." The products retail nationwide for $6.99.
"I would categorize Beyond Fresh sales as successful," says Kermendy. "There has been a learning curve with consumers, but we anticipated that when the line was launched. Any time you introduce an innovative product with a totally unique dispensing system, it can take a while for people to embrace it. Initial response to the dispensing system has been very strong and I think it holds great potential for additional products down the road."
The 6th Annual Health & Beauty Awards honored the package under the category: Cosmetics & Toiletries, Personal Care, Mass Distribution.
—Jim Butschli
Companies in this article