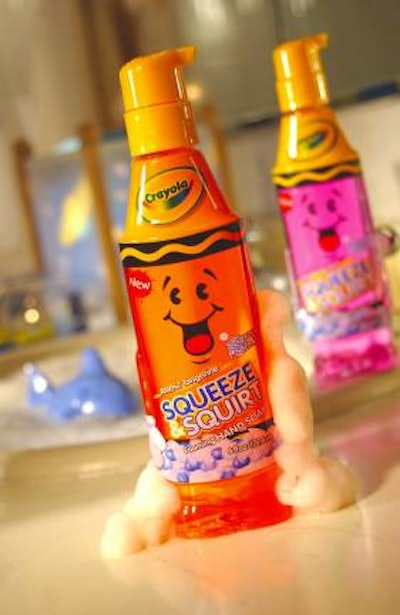 This summer, America's kids will have a little more fun cleaning off the dirt from playing outside, thanks to Crayola Squeeze & Squirt foaming hand and body soap from Binney & Smith licensee Schroeder and Tremayne.
Available in two colors, the new 6-oz package brings to life a Crayola character called Tip and uses product colors right from the crayon box: Jazzberry Jam and Atomic Tangerine. Made from a custom preform, the container is a clear PET bottle enclosed in a seven-color shrink label of polyvinyl chloride. The container was designed by Studio One Eleven, a unit of Berlin Packaging.
The squeeze bottle is topped with a color-matched EcoSqueeze™ foamer from Emsar. Each variety is tinted to show through the bottle and label, and scented to match the name. The new products began roll-out in late June to mass merchandisers, grocery, toy, and drug stores.
The packaging project began last August when St. Louis-based Schroeder & Tremayne contacted Berlin Packaging about needing a fun package for a kid's hand soap. While the manufacturer had purchased other packaging from Berlin in the past, this was the first time it worked with Studio One Eleven.
When the design company was originally contacted, the marketer sought a package design in just a matter of days, because the company needed to turn around the project quickly. The designers told the company that they needed an additional week.
"We knew we couldn't offer our best work in just a few days," says Scott Jost, a director at Studio One Eleven. "We told them that if we could have an additional week, we'd offer a whole set of packaging options. That's because we wanted to review the licensee manual and we wanted to audit similar products in the marketplace."
Even though the designers worried they might lose the assignment, they also explained that they felt they could make up the time elsewhere in the process, says Guy Considine, vice president of business development for Berlin. That was persuasive to the client, which recognized the importance of the designers reviewing the licensee manual and understanding the competition.
Tip's personality traits
"Studio One Eleven came up with several dozen concepts that included weaving the personality traits of the Tip character into an interactive package," says Carla Schaeffer, brand manager at Schroeder & Tremayne. "We think it's an excellent solution that is fresh, appealing, and instantly identifiable on the shelf.
"Parents are always looking for strategies to make getting clean more enjoyable for their kids, and we were looking for a new way to translate Crayola's brand equities of innovation, interactivity, and fun to help ease the process." Schaeffer notes that the new container is really an update of a cone-shaped package it had used since 2003.
The crayon-shaped bottle with tapered shoulder has tiny arms and feet molded in to help bring the character, Tip, to life. The smiley face on the label invites kids to squeeze his belly to release the foamy product. This is in place of a pump that would require two hands for dispensing.
"The Tip character is not that well known," says Schaeffer. "He's used on some Binney & Smith packaging as an icon, but it's safe to say that Tip has not been overused. If Studio One Eleven designers hadn't really closely examined the licensee manual, they might not have found the character. In fact, the folks at Binney & Smith told us they loved this design because we've embraced the Tip character and made him come to life in this package."
After the partners selected the container design, Schaeffer says a sizable number of focus-group testing was undertaken once samples were made available. "We tested the package with both parents and with kids, and they went home both clean and smiling," she reports.
She reports that the reaction from the trade has been so strong that the company is having Studio One Eleven look at other ways to extend the Tip character into other products, like haircare for kids.
Outsourcing components
The bottle is blow-molded in China from molds that were made there. It's also shrink-labeled in the same plant, before bottles are shipped to the United States. The designers also suggested the Emsar EcoSqueeze™ head that was selected, and worked with the manufacturer to ensure a good color match.
Although Schroeder & Tremayne does manufacture many of its own products, in this case, it outsourced the packaging of these bottles to American Blending & Filling. As a company, Schaeffer says, Schroeder & Tremayne now "sources a lot of our production globally." However, the products are all developed in-house, she points out. That permitted the company to broaden this product's application late in its development.
"Originally, we planned to call this product simply a foaming hand soap," she recalls. "As we got into all our testing, we decided to extend it to a foam hand and body soap, so it could be used in the tub as well as at the sink. This meant we had to make a slight formulation change to make it tear-free for kids."
The manufacturer does so much work in the Far East that it maintains an office in Shanghai. "That part of the world has become very important to our business," she says. "Our experience there is why we were comfortable with Berlin sourcing part of the package in China."
Parallel development
Berlin Packaging, too, has a staff person in the Far East, working with both mold makers and container converters of all types. Although Studio One Eleven has been established for six years, Considine says that in the last two years, the firm has made a renewed commitment to staffing, hardware, and software.
In this case, the use of CAD design software was instrumental in making sure the part designed in Chicago could be produced well in China. And in the early stages, Jost adds, the design was developed for production in either PET or polyvinyl chloride.
"Our design software was the best $15ꯠ we've ever spent," says Jost. "It allows us to communicate real-time with someone on the other side of the world. That's absolutely critical in having tooling built."
And, says Considine, this was a particularly challenging design, both the development of the preform and the blown bottle. "We had to make sure the bottle would be easy to squeeze with the proper memory to work with the squeeze-actuated foamer."
The design software, Considine adds, integrates well with the manufacturing software used by many of its converters. "When we create a design using our software, it can be translated perfectly right into our manufacturer's platforms. That means that all the tolerances and specifications remain the same from the Midwest to the Far East. It absolutely takes any and all questions relative to the structural design's accuracy and eliminates them," Considine says. "Most of our suppliers, both domestically and abroad, have one or more manufacturing software programs that communicate with our design software."
That same level of communications was maintained with both Schroeder & Tremayne and with Binney & Smith. "Most all of us at Studio One Eleven come from a consulting background," Jost points out, "so we think we know how to work effectively with a customer, as well as with suppliers. We try to match our projects with the suppliers that have the most compatible technology."
Although sales of the new products will make the marketplace judgment, Schaeffer says the sell-in has been excellent. Contract packager ABF packs 12 bottles per case, and several customers have asked for assorted case packs, she says. The company also plans to do some countertop displays for the product that is expected to retail for $2.99.
"We've been told that Binney & Smith is so happy with our packaging that it's using our brand and product to help sell its Crayola name to other potential licensees," concludes Schaefer.
Companies in this article