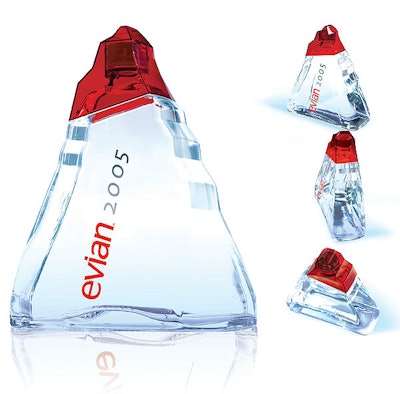 The triangular bottle is reminiscent of the alpine mountaintops from which Evian water has flowed for more than 8ꯠ years. The design was handled by Landor Paris, whose parent company operates in the United States as Landor Associates.
The recyclable bottle is press-and-blow molded of thick glass by Saint-Gobain, which operates in the United States as Saint-Gobain Containers. The minimalist graphic design includes a polymeric no-label look, done via a front-panel pressure-sensitive label. Required nutritional copy appears on the flat-panel left side label. Both labels are printed in two colors.
The bottle has an injection-molded, red-tinted PET 'overcap' that snaps on over a standard 28-mm aluminum screw closure and fits neatly against a sloping area on the bottle's shoulder.
The bottle was distributed through early 2005 to 100 countries including the U.S. where it sells for $2.50, according to Landor Paris's director of implementation Eric Duschene. The bottles are intended to sell as a gift item.
The bottles are filled on a highly modified line—essentially a new line, according to Duschene—at the bottler's plant in Evian, France, at a rate of 7ꯠ/hr, or about one-fifth "normal" speed.
The bottles are distributed in two formats: in functional corrugated six-pack cases for smaller-volume users, and for high-volume retailers the bottles are nested in individual 1½''-H thermoplastic trays for protection. The trayed bottles are loaded five layers high and unitized via stretch wrap and ready for store display, according to Duschene.
PW has learned that a prototype has been developed of a similarly designed 3-L size, but no further details are currently available.
Companies in this article