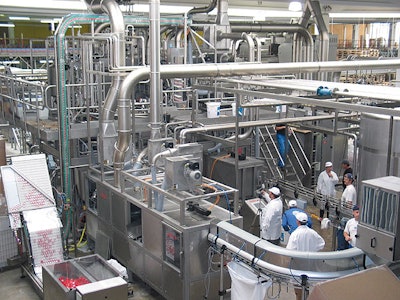 In November, European beverage producer WeserGold expected to begin commercial production of PET-bottled orange and apple juices for private-label customers on its new Elofill Linear Aseptic 6000 filling machine from Elopak Plastic Systems.
Packaging World visited WeserGold's one-year-old Rinteln, Germany, plant in late August during a test run of the equipment that will be used to fill PET bottles in 330-, 750-, and 1ꯠ-mL sizes. Nearly all of these bottles will be warehoused, distributed, and sold shelf-stable with a shelf life of up to 60 days.
The new line is also expected to produce bottles for sale through the refrigerated chain in the future. Currently, though, "the cooling chain is not as important here as it is in the United States. We have a different market, where shelf-stable aseptically-filled juice accounts for about 90-percent of sales," explains Franz Driessen, managing director at WeserGold, a division of Richard Hartinger Getränke, a holding company also based in Rinteln, in Germany's Weser mountains. "But there is also a small, growing market for high-priced, high-quality juices sold refrigerated."
WeserGold's new Elofill equipment "is designed to fill 6ꯠ one-litre bottles per hour," says Driessen. "We purchased the machine for additional production," he adds. "It did not replace another piece of equipment."
While this summer's European heat wave had tragic consequences, it sent beverage sales soaring. Of course, that's good news for WeserGold, producers of juices, soft drinks, and other beverages. Driessen says the 180ꯠ-sq-meter facility produces around 750 million units per year.
Beverages are filled on 26 paperboard carton lines and six bottling lines. All but four of the lines are aseptic. "We have one returnable glass bottling line for mineral water, two one-way glass lines, and three PET lines," Driessen notes. He says 70% of the plant's output is sold under private labels, the rest under the WeserGold name. Overall, the company fills containers holding between 200 mL and
2 L of product. Beverages are sold to supermarkets, convenience stores, gas stations, and other retailers as singles, or in multipacks, depending on the type and size of package.
Equipment advantages
Driessen calculates that the EPS aseptic bottling line will run on a three-shift operation five days per week. From April through August, production could be 24/7. "Our target was to find a linear filling system [as opposed to the two rotary aseptic systems already operating at Rinteln] that would use 'dry' aseptic treatment because we save water by doing that."
The Elopak machine uses vaporized hydrogen peroxide or "dry" sterilization, minimizing the need for water compared to the two rotary aseptic machines. WeserGold's plant has a sterile water unit that is used only to cool down the machine after sterilization. No additional aseptic water is needed to sterilize the bottles.
"We had already tested systems that sterilized bottles with water, but it was our decision to use this method of sterilization, and we selected the Elofill machine," Driessen says. "It reduces the costs of water consumption and wastewater treatment, so it gives us an economic advantage. Limiting our water consumption also fits into our concern for the environment."
External bottle sterilization
PET bottle varieties that will be filled on the new aseptic line will be molded by WeserGold at Rinteln. The company purchases preforms from a local supplier, then stretch blow-molds them into bottles on a SBO-10 machine from Sidel. The machine was purchased specifically to supply the new aseptic line.
Bottles are air-conveyed by their 38-mm necks from a lower level in the plant some 300 meters to the infeed of the Elofill 6000.
Grippers carry bottles by their necks throughout the aseptic filling process. "As long as we use that same neck size and thread, we can run different bottle sizes and shapes through the equipment without changes," notes Driessen.
According to Elopak, the outfeed conveyor can be raised to accommodate different bottle heights. These settings are programmed into the various bottle "recipes."
Constant back pressure on an infeed starwheel synchronized with the overall infeed system ensures accurate infeed of bottles as they enter single-file into the external bottle sterilization section. Vaporized hydrogen peroxide is applied as a mist to treat the outside of bottles. The H2O2 cannot be seen as the bottles are conveyed through this section. No sterile water rinse is necessary following external bottle sterilization.
Each set of 10 bottles is transferred by grippers from the sterilization area to 10 neck grippers that hold them in place on a transport beam positioned in the lower part of the machine. Several of these beams are spaced evenly on four sectional belts carried on an oval-shaped track from upper and lower areas in the aseptic area.
There are two air zones inside the machine, both of which are treated with Class 100 air. One zone is the aseptic chamber, which is treated with three times more HEPA-filtered air than the second zone that encompasses the bottle infeed and outfeed section, and the internal bottle transport system. That's done to minimize the potential for contamination in the aseptic chamber.
A pneumatic device raises the transport beam about 1.5 meters to the aseptic chamber. There, the 10 bottles are held by grippers and transferred left to right through internal sterilization, filling, and capping stations.
Heart of the system
The first station is internal sterilization. Nozzles dose each of the 10 bottles with H2O2, at 78ºC. "It's the maximum temperature a normal PET bottle can stand before it starts to shrink," says Georg Zuzok, general manager of filling equipment for EPS. Hot air is used to drive out any residual H2O2.
At the heart of the aseptic machine are 10 electronic, volumetric fill heads. Above the machine, juice is pumped through an aseptic system of stainless-steel pipes, valves, and pumps. High-temperature processing sterilizes the product. It is pumped through a manifold that distributes the liquid above the 10 filling nozzles. Each nozzle includes a separate modulating valve, or induction flow meter, so the fill level can be carefully controlled, as are other machine functions, by a Siemens S7 PLC.
After filling, liquid nitrogen is used to reduce oxygen in the headspace prior to cap application. The nitrogen also helps provide bottle rigidity after capping, according to Elopak.
The next step is closing the bottle. Injection-molded polypropylene caps from different suppliers incorporate a foil-based liner. A cap conveying system from H.F. Meyer equipped with Intralox plastic belting feeds caps to a mezzanine level. They're treated with vaporized H2O2 before they're torqued onto the 10 bottles. Induction sealing is then used to adhere the liner in the cap to the mouth of the bottle. No retorquing is required. This entire process repeats with every 10 bottles as they transfer from the sterilization section to the aseptic filling area.
Investment challenges
How does the company justify the purchase of the new line, not to mention the new molding machine? "Nowadays, you cannot really calculate a return on investment on such projects because we work on a seven-year depreciation schedule," says Driessen.
But he says, "if you don't do it [invest in equipment that produces bottles desired by consumers], you will not be in the market any more because the European consumer is so focused on new product and new bottle shapes."
It's premature to determine savings from reduced water consumption and treatment for the new aseptic line as compared to the two rotary aseptic systems, but Driessen does anticipate they will help the bottom line. Further ROI on the equipment could come if the company changes its glass bottles to PET, something Driessen expects. Ultimately, satisfying ever-changing consumer demand justifies WeserGold's investment.
Companies in this article