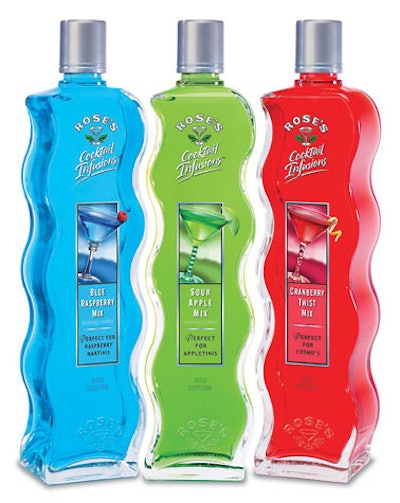 66Custom molded, embossed, and supplied in reshippers by The Glass Group, the 20-oz glass bottles' curves allow them to "interlock" on the shelf.
"The design really reinforces what consumers were looking for, a sophisticated, stylish showpiece that they can leave out on their countertops at home," says Mott's brand manager Tara Leonard. "Consumers want to showcase their style, sophistication, and knowledge of the latest trends, and this packaging reinforces that whole appeal."
Mott's is also hoping that the interlocking design compels consumers to purchase a set of all three colorful products, though Leonard has only qualitative data that suggests that is happening.
While the consumer-catching curves look great on the shelf, they posed a production challenge. "Interlocking bottles are not typically what you want to have on your bottling line," says packaging engineering manager Michael Daoust, who also drove the bottle design. On a reconstructed line at Mott's Waterloo, NY, plant, the containers are oriented for labeling and conveyed in single file through rinsing, filling, and capping before case packing. Line speed is 60 bottles/min, according to Daoust.
The bottles feature a no-label look that helps accentuate the product color. The pressure-sensitive, 2-mil biaxially oriented polypropylene label is flexo-printed in up to four colors, screen-printed in three colors, and hot-foil stamped by Brook & Whittle. The bottles are topped with Kerr's "Upscale" linerless polypropylene closure that provides tamper evidence. The stock 28-mm closure features a longer-than-normal skirt and is printed in a custom silver metallic color. The cocktail mixers are marketed toward females aged 21 to 34 with a $4.99 suggested retail price.
Companies in this article