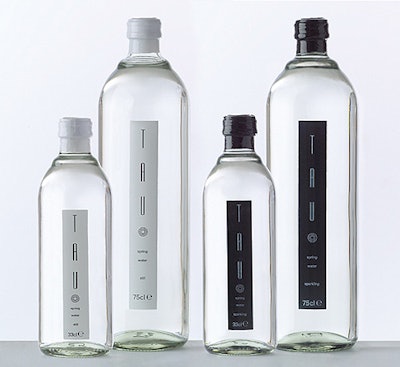 Earlier, the Bethania, Wales-based bottler won accolades for its cobalt-blue glass bottle, and for an unusually shaped PET bottle. "We felt that most of the available clear-glass bottled waters were very traditional, old-fashioned designs," says David Relph, general manager of sales and marketing at Ty Nant. "An opportunity therefore existed for a new and more modern approach."
The new brand name Tau comes from an ancient Welsh word meaning "to be silent," so the bottler wanted understated clean lines decorated with minimalist black and white. The new bottles are produced at Rexam's Barnsley factory with decorating screen-printed in two colors by Rexam using ceramic, lead-free inks for a modern look and feel, but with excellent durability and resistance to scuffing. Bottles are finished with a secondary TE capsule normally associated with wine bottles.
The water is available in both still and sparkling varieties, and distribution has begun to select on-premise outlets, along with retailers like Harrod's and Selfridge's. "We've had an excellent reaction to the new Tau launch, confirming our view that the minimalist design more than fulfills the need for a contemporary, understated, and truly stylish package," Relph added.
Companies in this article