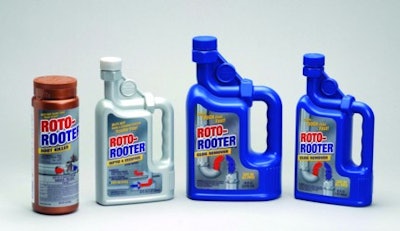 That's because Changing Paradigms of West Chester, OH, is the winner for the second straight year of the Bernard Seid Best of Show award in the annual competition of the National Assn. of Container Distributors (www.nacd.com).
This year, the award was shared by Kaufman Container Co. (www.kaufmancontainer.com), the distributor that worked with Changing Paradigms on distinctive handled bottles for Roto-Rooter (above), plus a revised cylindrical bottle for the brand's squeezable root killer. What makes the high-density polyethylene Roto-Rooter bottle so distinctive is the handle and neck. Together, they take the shape of a plumbing trap pipe—exactly where the clog remover is likely to be needed.
Changing Paradigms, the marketing/packaging entity behind the Roto-Rooter products, came up with the unusual bottle concept. Silgan Plastics (www.silganplastics.com) makes the containers. "We worked closely with them and with Silgan to create the design for the custom molds," says Jeff Gross of Kaufman. "The bottle was a team effort." Also pitching in on the design side were One80 Design (www.one80design.com) and Ionic Communications Group (www.ioniccommunications.com).
The bottle that won the award used both front and back pressure-sensitive labels. Now the front label is done via in-mold labeling. The back label, Gross says, is a booklet-style p-s label that contains all the necessary safety and usage instructions.
In addition, Gross says, Kaufman worked with Hub Plastics (www.hubplastics.com) to add new neck rings to a stock squeeze bottle of root killer so that it accommodates a squeeze-and-turn closure.
This award and others in each of seven categories were presented April 5 at the NACD's 78th annual convention in Scottsdale, AZ. This award "gives special meaning to the employees of Kaufman Container because it is a memorial to my father," noted Roger Seid, chief executive officer of Kaufman.
In addition to the Best of Show winner, competition judges awarded gold to seven packages in seven categories. Shown left to right in the group shot reproduced below, the gold award winners are: Cosmetics & Toiletries—Avojuice Skin Quenchers from OPI Products, distributor Alico Packaging (www.alicopkg.com); Food—Pomegranate Juice from POM Wonderful, distributor TricorBraun (www.tricorbraun.com); General Industrial & Automotive—Pre-Empt Liquid Ant Bait from Bayer Corp., distributor TricorBraun; Drug & Pharmaceutical—Minoxidil from Alpharma, distributor O. Berk Co. (www.oberk.com); Novelty—Boudreaux Butt Paste from Boudreaux's Family Pharmacy, distributor Berlin Packaging (www.berlin packaging.com); Pet/Vet—Dirty Dog Pet Products from Norwood Packaging, distributor Richards Packaging (www.richardspackaging.com); Household Chemical—Method Dish detergent from 1731 Design, distributor TricorBraun. —PR/AO
For a look at all 22 NACD winners, see: packworld.com/go/w092
Companies in this article