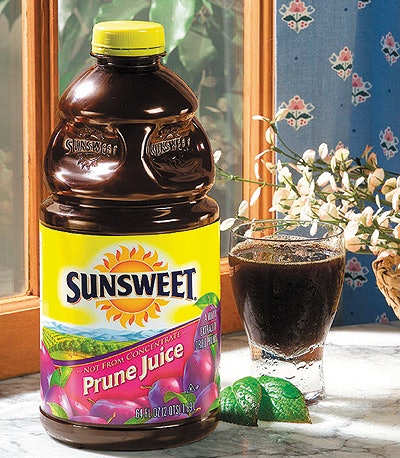 However, beginning this month, consumers will have an opportunity to buy Sunsweet Prune Juice in a new 64-oz PET bottle from Graham Packaging (York, PA) that offers several advantages.
The new package is a delicate balance of new and old. "We wanted a new package that would be easier to handle by the many older consumers that regularly enjoy our product," says Howard Nager, vice president of North American marketing for the Pleasanton, CA-based growers' co-op. "At the same time, we wanted to avoid making any sort of major change in the appearance of the label or bottle because our primary end users tend to resist change." The graphics for the introductory label are shown (bottom photo).
A collaboration between Sunsweet and Graham resulted in a custom bottle with four pinch-grip indentations that make the bottle easier to pick up and to pour from. Plus the Sunsweet logo debossed in each of the four indentations not only enhances brand recognition, it also improves the grippability, Nager says. Because the new bottle has the same dimensions as the stock bottle it replaces, no changes were required in secondary packaging or in the filling operations.
In addition, Graham employed its Active Cage™ technology, its name for high-uptake vacuum panels that are needed for bottle stability when a plastic bottle is hot-filled. They're located behind the wraparound paper-laminated label that displays the identifiable yellow color scheme. This technology allowed Graham to reduce the bottle weight by more than 7% to 75g, producing a less-costly bottle.
"We're offering new advantages without risking any of our existing franchise," Nager says. —AO
Companies in this article