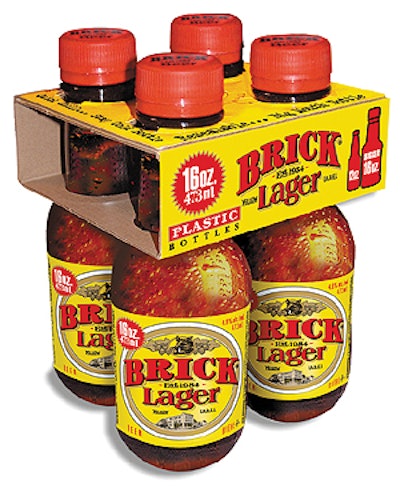 Packaging of the Brick PET bottle is notable in that it will be offered in four-packs with a colorful paperboard neck lock. Supplied by Kruger (Rexdale, Ontario, Canada), the 175#-test E-flute corrugated carrier is decorated with a litho label printed offset in four colors. Operators at Brick erect the carrier from a flat blank and apply it by hand. The four-packs are selling for under $10 (US$6.30).
The 38-g coinjected stretch/blow-molded bottle is from Owens-Illinois (Toledo, OH). Its five-layer structure includes: PET/SurShield™ barrier/recycled PET/
SurShield barrier/PET. The proprietary barrier layer is nylon-based and incorporates an oxygen absorber. The central PET layer can contain up to 35% recycled content. Shelf life is the same as for Brick's glass bottles: about 4 months.
Setting this bottle apart from the O-I bottle used by Miller Brewing and others since '98 is that this one can withstand pasteurization. "We were going to introduce the bottle in the spring, but it wasn't until this fall that the pasteurizable version was ready," says Kevin Meens, executive vice president of marketing at Brick. O-I's Ron Pfenning has this to add: "Yes, this bottle withstands pasteurization at Brick, but we're not quite ready to offer a pasteurizable plastic bottle as a stock item."
The 28-mm closure from Crown Cork & Seal (Philadelphia, PA) is injection-molded polypropylene and includes an oxygen scavenger. —PR
Companies in this article