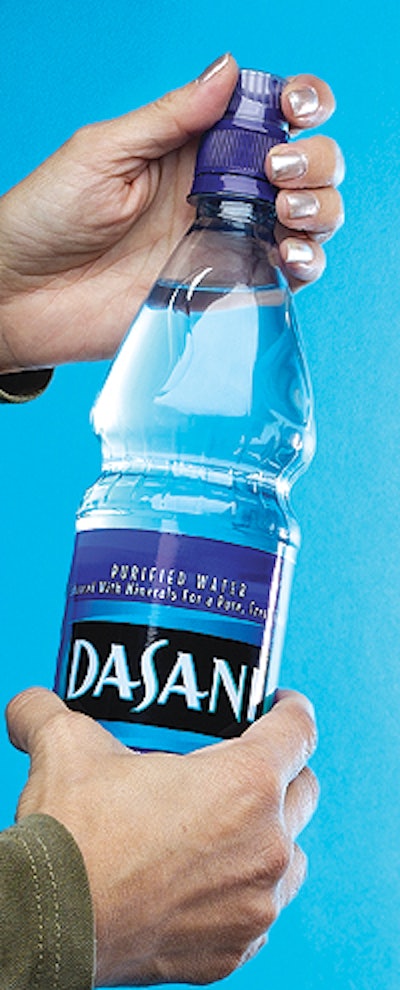 By twisting in the direction of the arrows shown on both the overcap and spout, the consumer can open and close the closure with the overcap, without touching the drinking surface of the spout. Furthermore, the spout's shape conforms to the mouth and lips, making the beverage easier to drink.
Dasani will be the featured bottled water at Walt Disney's United States Parks and Resorts as part of a multiyear strategic alliance between Atlanta-based Coca-Cola Co. and The Walt Disney Co., Burbank, CA.
These theme parks and resorts will be among the first to sell the new 24-oz sports bottle that is recognizable by its tall, slim shape and what Coca-Cola refers to as a proprietary twist-open top designed for on-the-go vacationers. However, a closer look at the closure reveals that it's from Creative Packaging (Buffalo Grove, IL). The blue, tamper-evident base is topped with a clear overcap. The materials are reportedly injection-molded of polypropylene.
With its pinch waist and tapered top that ascends inward toward the closure, the bottle is considerably sleeker than the 20-oz Dasani bottle typically sold at retail. Both, however, are believed to be blue-tinted PET bottles. While few additional details were available, Kirsten Witt in Coca-Cola's North America Public Relations office did say that there may be some design changes to the bottle before it's rolled out nationwide next year. —JB
Companies in this article