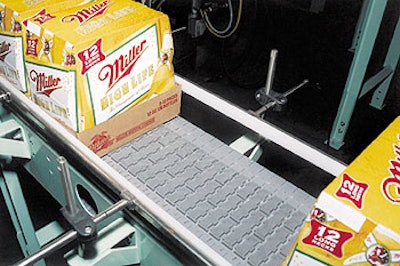 Sam Martin, maintenance planner for Miller Brewing Co.'s Irwindale, CA, facility, couldn't be happier since a rubberized fabric belt and roller conveyor formerly used for incline conveying bit the dust.
"Maintaining the belt-on-roller conveyor was basically like painting the Golden Gate Bridge," he says. "When you get to one end, you turn around and head back the other way. It's never-ending repair, and we were just going through belts like nobody's business."
The Irwindale plant had to replace the former 100'-long belts three times a year, Martin says. This cost the company more than $1꼀 annually. Additionally, before the belts were replaced, they would grow thin, losing their ability to hold cases steady on an incline. The cases of beer would slide down the slope and hit other cases, causing scuffing of the secondary packaging at the very least or, in some cases, broken bottles.
According to Martin, the conveyors also required frequent replacement of bearings, rollers, and drums. "To clean the conveyors we'll often hose them off," he says. "And this eventually causes corrosion. At about nine dollars per roller, why even keep rollers in there?"
To alleviate these and other associated problems, Martin turned to Intralox (New Orleans, LA) for a cost-effective solution. The recently-installed Series 1400 Friction-Top belt conveyor eliminates problems associated with conveyor wear and product damage. The conveyor, which runs on an incline from a case packer to a palletizer, is capable of running 1꼀 lb/foot and is equipped with a thick, wear-resistant rubber surface.
With seven packaging lines, Miller chose to replace only one of the 20 conveyors initially, but two more incline conveyors are scheduled for retrofit now. Over time, Martin says, the remaining incline conveyors should be changed over, too.
A smooth solution
Since the first Intralox belt was installed nearly two years ago, there has been no maintenance required and no case slippage. The labor, maintenance, downtime, and parts replacement savings have been impressive indeed, Martin says.
"We don't have to touch that belt," he says. "I don't know how you could hurt it.
"We've been using Intralox belts partly because their customer service is so good," Martin adds. "Another belt company told us it would take two weeks to get a sprocket when we were having problems with their sprockets. I can't wait two weeks when I have a line down. So we've converted a lot of our applications to Intralox. In fact, we specify Intralox for about 90 percent of our new equipment.
"We're constantly looking for ways to improve, and we're very open to trying new Intralox products because the company has never let us down," he concludes. (ALR)
Companies in this article