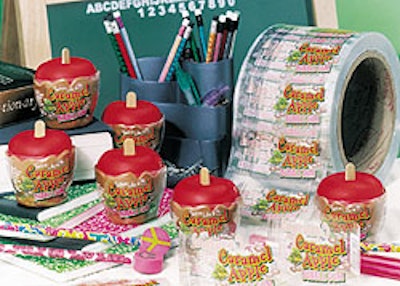 Laura Hess, marketing assistant at Yorkville, IL-based Amurol Confections, tells Packaging World that the seasonal item is marketed for Back-to-School, Halloween, Thanksgiving, and Christmas occasions.
The brown PP cup and red ABS lid are supplied by The Marketing Store Worldwide (Westmont, IL). "We chose ABS for the lid because it can be directly painted onto without being primed, which was needed to decorate the stem in light brown," says Hess.
Providing tamper evidence and graphic appeal is the clear heat-shrink label from Seal-It (Farmingdale, NY). The eight-color label includes basic nutrition facts and vivid graphics.
Hess chose not to disclose the cost of the packaging, but says, "We can get away with a higher price point because it is a seasonal item." Caramel Apple Bubble Gum will be available nationally through December 31, 2001 for $1.99. (EF)
Companies in this article