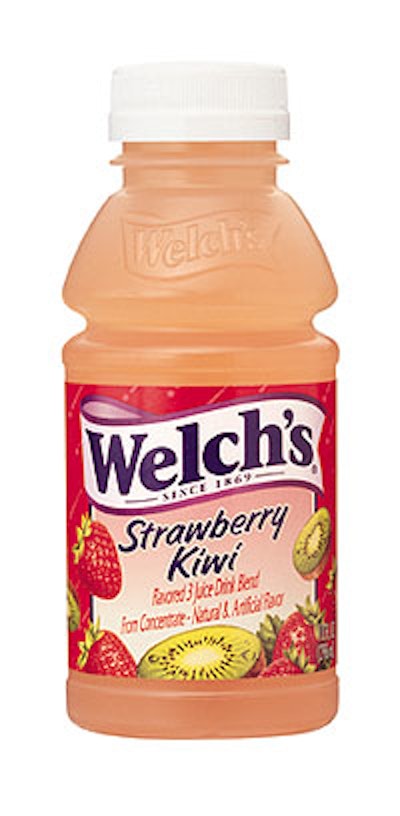 Shipments began in August and a rollout is underway.
"Our research showed us that clarity is not as big an issue with consumers as the folks in our industry have always assumed," says Ed Lerner, manager of R&D package and process development. "Besides, hot-filling PET would cost significantly more, because in a small container like this the surface-to-volume ratio means you need multiwall barrier PET, not monolayer PET." Cost of the PP bottle, Lerner adds, is almost at parity with its glass counterpart, which, for now at least, remains in use.
Weighing 26 g and topped by an injection-molded 38-mm PP closure from White Cap (Downers Grove, IL), the multilayer bottles are coextrusion blow molded by Pechiney Plastic Packaging (Chicago, IL). Welch's fills them on its glass lines. A paper/PP label adorns the package, but Lerner isn't saying much about the label or its suppliers. He's also guarded about the bottle's structure, saying only that it includes ethylene vinyl alcohol as a barrier layer. "There are other nuances to it, as well," he adds. Shelf life is one year, the same as for glass.
Separately, Welch's introduced in August a squeezable, contoured, 22-oz polypropylene bottle sporting a larger 38-mm polypropylene cap with a "ribbon" opening for convenient jelly and jam spreading.
Previously, the squeezable bottle was molded with straight sides and topped with a 33-mm cap featuring a small round opening, much like closures used for ketchup bottles.
According to Karen Mitchell, Welch's senior product manager, consumer tests rated high on using a tapered bottle and easy-spread dispenser cap because of the safety it brings to children. "It is easier for small hands to hold and they liked the idea of having a cap for spreading," she says. "The slotted opening takes one more step out of the process so you don't need to have a knife to spread it. Kids can use it without having to handle a knife."
The new contoured PP bottle, also from Pechiney Plastic Packaging, features a molded-in Welch's logo inserted during the bottle molding process. The caps from Crown Cork & Seal (Philadelphia, PA) color-match four available flavors: grape jelly, grape jam, strawberry spread and red raspberry spread. Closures include a foil liner for tamper evidence.
Modifications were made to Welch's packaging lines to accommodate the new bottle shape and the larger cap size. Ed Lerner chooses to keep the cost of equipment modifications confidential.
Welch's jelly, jam, and spread are available nationally for $1.69 and $2.39. (PR/EF)
Companies in this article