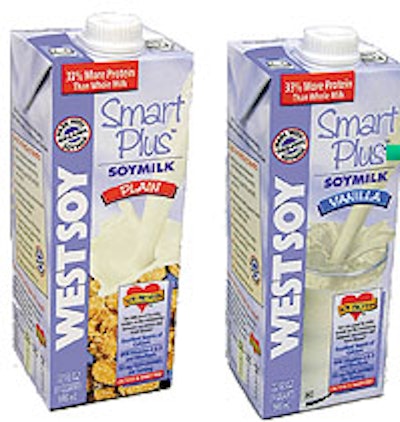 "We are currently the only aseptic soymilk manufacturer utilizing the square, screw-top package," says Jennifer Rubinstein, product marketing manager for Uniondale, NY-based Hain. Tetra Pak (Geneva, Switzerland) supplies the Liter-Square, Tetra Brik® aseptic package made of a multi-layered laminate that consists of polyethylene, paperboard, and aluminum foil. Carton graphics are flexo-printed in five colors.
According to Rubinstein, the new resealable, PE Spin-Cap from Tetra Pak was selected to make the package more consumer friendly and recognizable. "A consumer can open the package, reseal it, lay it down on its side, and it will not leak," she says.
To make it easy to use the new cap, Hain included two visuals on top of the carton, near the cap, to show the tamper-evident cap unopened, and to demonstrate how to break the seal.
Hain uses co-packer Nordic Aseptic (Alexandria, MN) for filling and sealing. The 32-oz soymilk, on the market since last year, retails between $1.99 and $2.49. (EF)
Companies in this article