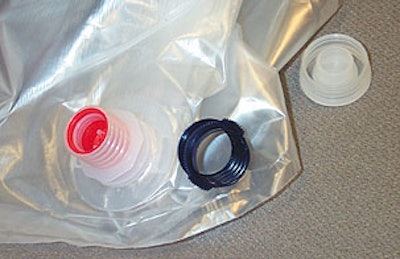 Called the Q2000, the connector spout is available from Liqui-Box (Worthington, OH). It consists of five injection-molded pieces made from several resins. Like comparable spouts, it's heat-sealed to the flexible plastic bag material, which can also vary in construction. The bag is loaded into a corrugated box and then filled with syrup. Restaurants and other foodservice institutions connect their dispensing systems to the spout on the bag.
The Q2000 is unique because it can be firmly connected to any of the three styles of dispensing systems commonly used by today's foodservice institutions. This is made possible by a blue, threaded "flange ring." It's simply left in place for both plunger- and clamp-style dispensing system attachments. For screw-type dispensing systems, the blue ring is removed (see photo), and the dispensing system attachment is screwed into place.
Also important is that the bottling company filling the syrup into its package can use existing filling equipment with only minimal modifications, says Liqui-Box.
Dr Pepper/Seven Up's Damon Graham, who played a key role in developing the Q2000, emphasizes how easy it is to work with the connector in a foodservice operation with nothing more than an illustrated wall chart for training. Graham believes the Q2000 can also bring material cost savings of 15% to 25%.
"By consolidating bottlers into using this package, we hope to build sales volume," says Graham. "So as we roll this out, bottlers should see significant savings by virtue of the number of bags involved."
The Dr Pepper/Seven Up facility in St. Louis was the first to use the Q2000. Next up will be independent bottlers who are Dr Pepper/Seven Up franchisees. (PR)
Companies in this article