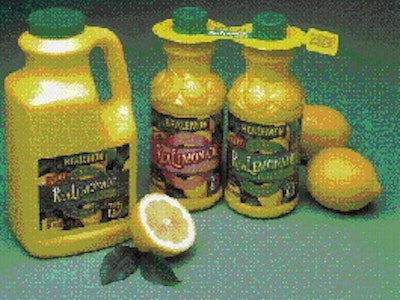 Innovative packaging, both primary and secondary, mark the recent launch of ReaLemonade Brand(TM) lemonade liquid concentrate from Eagle Family Foods.
This Tarrytown, NY-based company came into being in January 1998 when it acquired from Borden not only the ReaLemon and ReaLime brands, but also Borden's Cremora® non-dairy creamer and Eagle® Brand sweetened condensed milk. According to director of packaging Bob Larkin, ReaLemonade is the first shelf-stable lemonade liquid concentrate. It's also the first major brand extension into another category beyond the 65-year-old ReaLemon lemon juice from concentrate. Under such momentous circumstances, why not be innovative about the packaging?
The primary package scores high marks in esthetics thanks to its bright yellow color and lemon shapes molded into the shoulder area, which give the bottle a pleasing tactile quality. A vivid, full-wrap label from Fort Dearborn (Niles, IL) adds to the visual appeal of the 24-oz bottle. Fort Dearborn prints the polypropylene label flexographically in nine colors.
The bottle is long on functional as well as decorative properties. Coextrusion blow-molded by Continental Plastic Containers (Elk Grove Village, IL), the Lamicon® bottle includes an oxygen barrier layer that helps the package provide a one-year unrefrigerated shelf life. Larkin isn't saying what the barrier is, but Lamicon bottles from Continental typically include ethylene vinyl alcohol as their barrier layer.
"It took a lot of development work from an art-and-design point of view," says Continental Plastic's Ray Davis in describing the process behind the 45-g custom-molded bottle, which is blown on a wheel system developed in-house by Continental. "Looking at drawings in two dimensions is one thing, but when you start working in three dimensions, then it becomes really challenging to build a production mold set that will make bottles that look good from all sides."
Topping the bottle is a 33-mm Zelsnap hinged closure from Zeller Plastik (Libertyville, IL). It's injection-molded of PP and includes a foil liner that becomes induction-sealed to the finish of the container.
In supermarkets, the $3.39 bottles are sold singly on shelves or in a special 12-count corrugated shipper in end-aisle displays. Weyerhaeuser (Tacoma, WA) supplies the display cases, that are erected from flat blanks on a newly developed system from Moen (Santa Fe Springs, CA).
First application
According to Moen, Eagle Family Foods is the first customer to ship products in this corrugated case, which Moen calls the Fort Bliss display shipper. Moen and Weyerhaeuser worked together with Eagle Family Foods in developing the shipper, and Moen developed the Model PF106-HFB Fort Bliss box former specifically for this container.
The Fort Bliss is a variation on the standard I-partition bliss design, says Moen's Bill Storms. It's made by taking an I-shaped partition and hot melt gluing a bliss body wrap around it.
Both the body wrap and the partition are magazine-fed. Each is made of single-wall corrugated, though Eagle Family Foods doesn't disclose the board specs. Weyerhaeuser prints the body wrap flexographically in two colors before die cutting it.
The partition is folded and glued in such a way that it's doubled in the "spine" portion that runs down the center of the erected case, which results in superior stacking strength. End panels and corners of the finished shipper are also doubled because that's where the single-wall partition and the single-wall body wrap come together. The combination of the two single-wall thicknesses offers double-wall strength with the lower cost of single-wall material, says Larkin.
Once the shipper is erected and glued on the Moen system, 12 bottles are automatically loaded into it by a drop packer. Next in line is a Moen Model BL-901 Bikini Top Cap Lidder. It applies hot melt glue to a flat blank of corrugated and places the blank over the filled display shipper. Then it folds and compresses the lid to the shipper. A perforated tear pattern makes it easy for store personnel to open the case for display.
Club store format
Club stores are another important sales venue for the lemonade liquid concentrate, and here the packaging takes a different twist. Eagle Family Foods ships pallet loads of the filled Fort Bliss shippers, but without lids, for display at the club stores. Also, instead of marketing bottles individually, the club stores sell a two-pack. A paperboard "dogbone" carrier is used to combine two bottles. Supplied by H.P. Nuen (Fairport, NY), the carrier is a 24-pt clay-coated kraft printed offset in two colors.
One final package format for the new lemonade liquid concentrate is the 64-oz foodservice bottle that makes 21/2 gal of lemonade. Once again, it's a multilayer barrier bottle, but this time from American National Can (Chicago, IL). Front and back pressure-sensitive paper labels are printed flexo in four colors plus UV coating by Macaran Printed Products (Syracuse, NY). The finish takes a 53-mm injection-molded PP closure, with an induction-sealable membrane, supplied by Top-Seal (Phoenix, AZ).
According to Larkin, both the retail and foodservice versions of the new lemonade liquid concentrate have been available nationwide since their March launch. About the retail version, Eagle Family Foods' marketing group has this to say:
"The launch has been a success resulting in national distribution and excellent sell-through. In addition, there has been a very positive consumer response to the package, its ease of use, and the product's great home-made taste."
Companies in this article