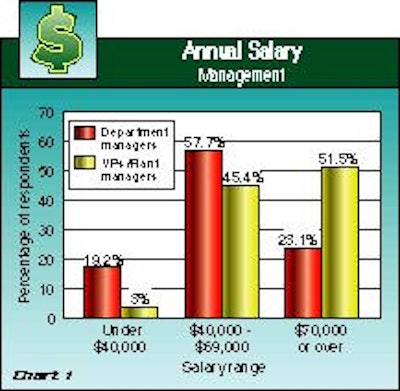 Good news for those pursuing management jobs in packaging: The results from Packaging World's reader survey indicate that managers do indeed earn a good living. In addition, job satisfaction was high among the vice-presidents, plant managers and department managers who responded-the highest levels of any job title studied.
The survey was sent to 2ꯠ readers earlier this year with responsibilities in packaging, engineering, purchasing, production, and maintenance. (For stories analyzing total respondents, as well as detailed reports on packaging engineers and purchasing agents, see PW, Sept. '97, p. 52 & p. 60, Oct. '97, p. 48.)
While the survey was focused on packaging engineers and purchasing agents, some 85 (or 30%) of the 280 respondents identified themselves as managers. For the sake of analysis, PW editors grouped management respondents into two broad categories. One is department managers, which consists of respondents with supervisory duties in packaging, engineering, manufacturing, production, purchasing, or maintenance. The other broad category includes vice-presidents, plant managers or directors in those same functional areas.
Top managers are top earners
It came as no surprise to PW editors that those at the very highest levels of management-plant managers, VPs and directors-take home the highest salaries reported by all respondents. Indeed, over half of plant managers/VPs earn $70ꯠ or more (Chart 1).
Managers also did well in the pay-raise department, compared with other respondents. Almost 13% of all managers received a pay raise of 8% or more in the last year (Chart 2). Most significantly, almost 20% of top managers surveyed reported a pay increase last year of over 8%. Only about 10% of department managers could make a similar claim.
As might be expected, those who commanded the highest salaries had the most experience. For example, over 80% of plant managers and VPs had over 15 years' packaging experience in their career. About 70% of department managers had 15+ years' experience. In contrast, just under 50% of packaging engineers had as much experience.
Interestingly, higher earnings didn't necessarily correlate with higher education levels. About 70% of all managers responding to the survey have a college or post-graduate degree. In contrast, 80% of packaging engineers, who earn less than managers, are college or post-college educated. Only about 60% of purchasing agents have college or post-graduate degrees.
This apparent contradiction may have a reasonable explanation. It's entirely possible that many of the managers who have many years of experience were in fact hired before college degrees became common currency among job candidates. Conversely, since most of the packaging engineers joined the business more recently, the companies hiring them could more easily insist on undergraduate degrees.
Small companies, top jobs?
The survey uncovered an interesting fact about the impact of company size on respondents. Nearly half of plant managers, VPs and directors in the survey work at small companies-those that employ fewer than 250 employees. Only 27% of top managers work at large companies employing over 1ꯠ people.
Since participation was voluntary, it's unclear why upper management at smaller companies responded in greater numbers compared to their peers at mid-sized and larger companies. Conventional wisdom holds that disgruntled people are more likely to respond to a survey (perhaps a reason for the large number of participants in purchasing). If so, the survey response is puzzling, since management respondents were the happiest of any group.
The company size factor was reversed among department managers. Only a little over 20% of these respondents worked at smaller companies, with the bulk (57%) working at large companies. Presumably, this is because smaller companies have flatter management structures with fewer places for intermediate or department managers.
In terms of job mobility, it seems that top managers who responded to the survey were more likely than other respondents to have changed jobs (26%) or be promoted to a new job (30%) in the last year (Chart 3). Such mobility figures were considerably lower for department managers as well as for engineers and purchasing agents who responded to the survey.
Finally, managers of all stripes reported higher overall job satisfaction levels compared to packaging engineers and purchasing agents (Chart 4). Half of all managers report overall satisfaction with their jobs. More specifically, over 60% of plant managers, VPs and directors report being satisfied. And tellingly, just 9.1% of these top managers said they were dissatisfied with their jobs. That compares to more than 25% of purchasing agents who claimed to be dissatisfied with their jobs. About 15% of department managers reported being dissatisfied.
What ails everybody
One thing that managers had in common with all other respondents is the compressed timelines under which all members of the packaging team seem to be operating today. A chief engineer at a food company in the Northwest wants to "Spend time at home!" What keeps him from doing that: "Projects and more projects!"
Many managers said there wasn't enough time for them to properly train and motivate the people in their charge. "Time and budget keep me from spending more time on employee ownership and teamwork," says a plant manager at a medium-sized food processing firm in the Northwest.
Still other plant managers also indicated they'd like to concentrate more on marketing their plant's capabilities. "Several business developments and start-up responsibilities keep me from more sales/marketing of services and products," writes a plant manager at a small pharmaceutical company in the Southeast.
A number of managers said they wanted to modernize their packaging operations, improve packaging efficiencies and spend more time on long-term planning. Being swamped with day-to-day details and having to wear many hats keeps them from those jobs, many say.
For example, a plant manager at a small, family-owned meat products company in the Midwest wants to "incorporate more computer applications in production out in the plant." What prevents him from doing that: "Recruiting, personnel, quality, production planning, researching new projects, and interacting with sales."
Others, like this plant manager at a small Midwestern food company, want to embark on the pursuit of "continuous improvement." He is "prevented by distractions (crises) and management-by-committee (meetings)."
At least one, however, hasn't lost his sense of humor-that is, if he's joking. A plant manager in the laid-back Southwest writes that he'd like to spend more time "mixing it up with my employees."