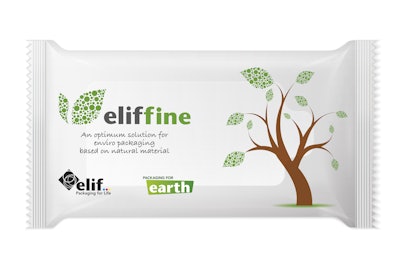 Elif introduces ElifFine, a soft-touch eco-packaging product that offers brand conformity for brand owners by providing a new tactile experience for their consumers. ElifFine also addresses the environmental concerns of consumers and brand owners with its mineral-based formulation.
ElifFine has a light structure due to its mineral filling and lamination-free barrier properties. It does not contain any solvent-based bonding chemicals because it is not subject to lamination processes, and it is recyclable. ElifFine provides stiffness, high strength, and tearing resistance together with barrier properties of traditional polyethylene films against humidity and gas while it offers a natural texture and the soft touch of paper due to its unique formulation. No tree cutting is carried out for the production of ElifFine.
Last year Elif launched ElifCare, its biodegradable packaging product with unlimited shelf life. ElifFine can be upgraded with the biodegradability properties of ElifCare, offering a biodegradable soft-touch material with an unlimited shelf life.
Companies in this article