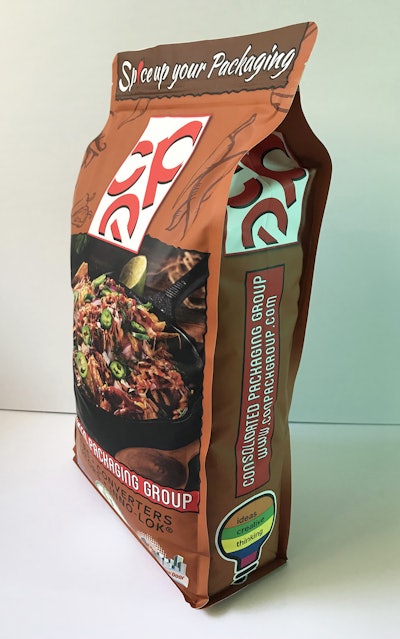 Consolidated Packaging Group (CPG) introduces their new flat-bottom, stand-up pouches, which complement their existing product line. These packages feature a flat bottom for stability while the quad-sealed side-gussets provide rigidity, framing the five display panels for maximum shelf impact and brand awareness.
CPG's new flat-bottom, stand-up pouches are manufactured in numerous sizes, printed using advanced HD 175-line screen Flexo in up to 10 colors. The pouches' film structures are designed to satisfy each customer's oxygen and moisture barrier property requirements. An added feature is the ability to use different films on a single package, such as presenting a metalized, foil or matte finish front panel with a clear material on the side panels to allow consumers to see the product inside the package. Fitted with re-closeable options such as Press-To-Close, Aplix® or Velcro® zippers, the pouches provide enhanced consumer convenience.
"We're excited about adding flat-bottom pouches to our already broad pouch portfolio. We now offer virtually any style pouch, including traditional stand-up, quad-seal side-gusseted, shaped, fitment and flat pouches, to meet the needs of the marketplace," says Gary Kaufman, Executive Vice President of Consolidated Packaging Group. "At CPG, we're known for our wide variety of quality products, customer care and fast delivery at competitive prices. We listen and work closely with our customers, making investments in technology to help them grow and succeed. Adding this new pouch capability helps us with that mission."
Market applications for the flat-bottom pouch include foods, pet care products, confections, snacks, nutraceuticals, lawn and garden products, consumer products, health and beauty.