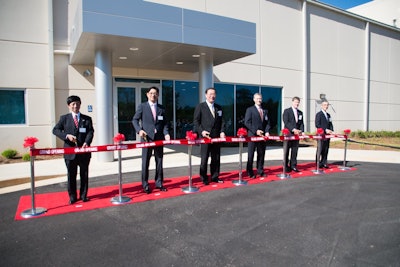 Tokyo-based Toppan Printing Co., Ltd. has opened its first overseas production site for the manufacture of its GL FILM in Griffin, GA. In early April 2016, Toppan USA, Inc. cut the ribbon on the new 104,000-sq-ft plant in a grand opening celebration attended by Toppan executives, local government officials, Griffin Chamber of Commerce members, and others. As Toppan USA President Sumio Ezaki said in his opening speech, "Toppan intends to make every effort to contribute to the industrial region."
Representing a ¥10 billion ($91.5 million) investment, the plant will produce GL FILM, a transparent barrier film that can be used for a range of applications, including medical, pharmaceutical, industrial, electronics, and food and beverage. Explained Shingo Kaneko, President and Representative Director of Toppan Printing Co., Ltd., "GL FILM exhibits barrier performance at the higher level, extending the shelf life of products. Nearly one-third of food produced around the world is disposed of each year. Using GL FILM can help alleviate this problem.
"Rising environmental considerations in the U.S. have been driving demand for GL FILM. To address the growing worldwide demand, we have built the first GL transparent barrier film plant outside of Japan." The Griffin facility will serve North America and Europe, as well as markets where future growth is anticipated, such as Central and South America.
GL FILM is constructed of a base PET film, with a barrier-coating layer followed by a vapor deposition barrier layer made of alumina or silica. The film is manufactured through a three-step process of vacuum metallizing, overcoating, and slitting. The barrier-coating layer is a patented technology from Toppan that is said to protect products from moisture absorption, drying, and decomposition, and to retain product aroma and prevent odor transfer. In addition, the barrier exhibits a stable performance that is not affected by temperature and the surrounding environment.
The highly transparent and nonmetallic GL FILM is compatible with metal detectors, microwave ovens, and RFID, and offers excellent flex resistance.
The ribbon cutting ceremony was performed by Ezaki; Kaneko; Takashi Shinozuka, Consul General, Consulate General of Japan in Atlanta; Scott McMurray, Division Director – Global Commerce, Georgia Department of Economic Development; Charles Copeland, Chair, Griffin-Spaulding Development Authority; and Shigeru Tomoda, Managing Executive Officer, Kajima Corp. Following the ribbon cutting, these officials presided over a Kagami-biraki, or sake barrel opening ceremony, with a toast given by Naoyuki Matsuda, Managing Director – Living & Industry Division, Toppan Printing Co., Ltd.
Companies in this article