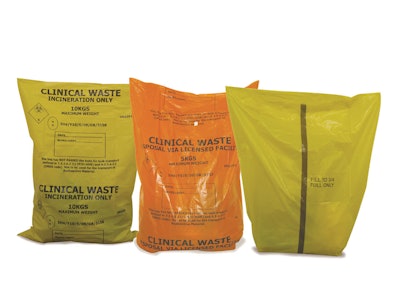 The new range includes yellow sacks for transporting hazardous waste for incineration, orange sacks for waste that is disposed of by a licensed or permitted facility, and yellow sacks with a black stripe, also known as "Tiger" bags, for waste collection and disposal that is not subject to special requirements in order to prevent infection and which are disposed of by deep landfill.
Used by leading healthcare, clinical, and specialist waste collection companies, to help comply with European legislation for the collection, transport and disposal of appropriate wastes as detailed in the European Waste Catalogue (EWC) classification 18 01, the UN-approved yellow and orange LLDPE sacks come in 5 kgs, 8 kgs, and 10 kgs capacities and are supplied in rolls of 25, packed eight rolls/ carton.
CHSA-approved "Tiger" bags are available in 10 kgs capacity, and are supplied in either an LLDPE blend or 100% recycled LDPE blend, which features a standard gusseted bottom weld. All sacks make use of Cromwell Polythene's LOWCP2T™ technology to reduce the weight of the bags, bringing about savings in CO2 and other emissions throughout the supply chain and the products' lifecycle. 


Star seal technology enables bags to be manufactured without gussets, eliminating gaps along the seals where leaks sometimes occur. It also leads to a less formed shape, allowing the sack more easily to mold itself to the contours of a container, in those instances where one is used, distributing the weight of the content evenly around the bag. Compact packaging means less space taken up in vehicles, which provides a further boost to the sustainability of these products.