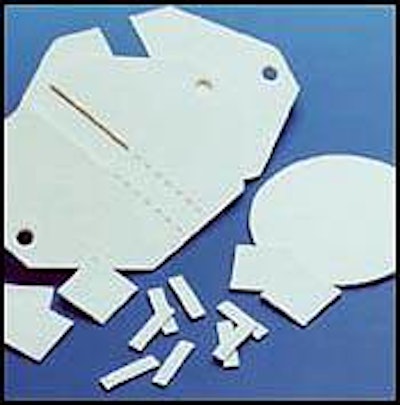 Drikette is a clean, adsorbing paper comprised of silica gel. The finished
sheets are available in two uniform thicknesses and can be cut into a
practically limitless number of sizes and shapes and contoured to fit
difficult places. It can even be designed into the package structure itself,
to serve as an insulator or fixture, providing a uniform environment for
complete moisture control.
Typical applications include:
* Computer diskettes
* Cryogenic pumps
* Electronic components
* Instrumentation
* Photographic films and supplies
* Diagnostic tests kits
* Spare parts packaging
Custom Designed to Exact Specifications
Drikette Desiccant Paper can be die-cut to meet your precise design
requirements. Our experienced engineers will assist you in pattern
development of package design. Drikette can be shipped activated in
ready-to-use sealed barrier pouches.