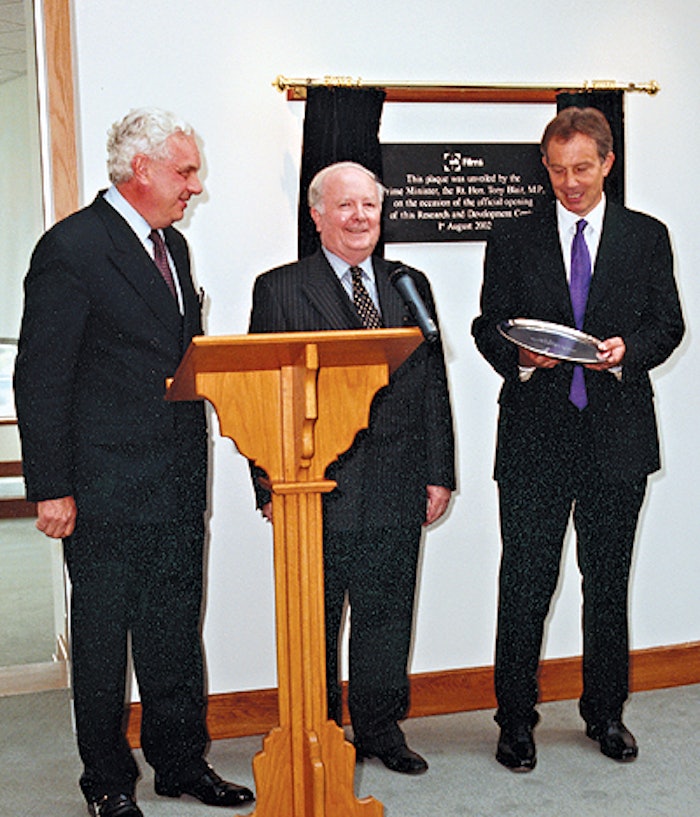 general of the films sector, and Prime Minister Tony Blair open the new UCB Films Research and Development Centre.
Avery Dennison (Pasadena, CA) will expand its global business serving the apparel and retail industries by signing a definitive agreement to acquire RVL Packaging, Inc. (Westlake Village, CA) and L&E Packaging (Greensboro, NC).
uni-chains Mfg., Inc. (Reading, PA) purchased a 4-acre building site in Reading, PA, for new factory space with additional production capacity and space for future growth.
Sealed Air (Duncan, SC) will build a new global mfg. facility for its Medical Products Div. as well as the worldwide headquarters located on the Duncan, SC, site of the company's Cryovac Div.
EarthShell Corp. (Santa Barbara, CA) and Green Earth Packaging (Dallas, TX) announced that Green Earth will assume responsibility for all production at the EarthShell facility in Goleta, CA, and will begin commercial production as an EarthShell licensee.
Packaging Distributors, Inc. (Waco, TX) will consolidate mfg. and sales operations with Fallas Automation (Waco, TX) in Fallas' Texas facility.
Klöckner-Werke AG (Duisburg, Germany) will transfer its controlling interest in Kisters Maschinenbau GmbH (Kleve, Germany) to KHS AG (Dortmund, Germany).
Afflink (Tuscaloosa, AL) has acquired an exclusive license to the distribution software product Level 5 Pro from Progressive Development Systems (Neptune City, NJ).
Voridian Co. (Kingsport, TN), a div. of Eastman Chemical Co., and Wellman, Inc. (Shrewsbury, NJ) have signed a bi-lateral strategic purchasing agreement resulting in increased North American PET bottle resin capacity.
Pactiv Corp. (Lake Forest, IL) will purchase 70% of Central de Bolsas, S.A. (Guadalajara, Mexico).
Econocorp, Inc. (Randolph, MA) completed the expansion of its MA-based headquarters building.
Poly-Pak (Melville, NY) acquired certain assets of Action Packaging (Brooklyn, NY).
Genpak, LLC (Glen Falls, NY) merged with Continental Superbag (Cedar Grove, NJ).
Chesapeake Corp. (Richmond, VA) will serve as the primary paperboard packaging supplier to Walkers Shortbread Ltd. (Aberlour, Scotland).
Festo (Hauppauge, NY) opens CA-based design center with class 10ꯠ and 1ꯠ cleanroom mfg. facilities.
Exopack, LLC (Spartanburg, SC) will acquire the assets of Specialty Films & Assoc. (Hebron, KY).
Companies in this article