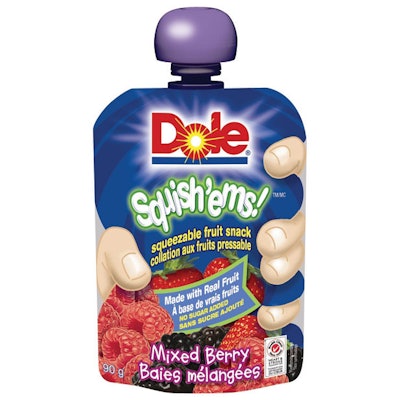 Talk about the power of suggestion! Here's evidence that package graphics really do make a difference in sales.
Yale researchers have determined that children perceive that food tastes better when it comes out of packages that bear cartoon figures, according to an article at dbtechno.com. The researchers based their findings on a study of about 40 children. They were asked to taste a variety of foods. Some of the food was in packs bearing cartoon-like graphics, and other food came in plainer packaging.
The researchers, writing in the journal Pediatrics, found that the children in the study consistently said they liked the taste of the food better out of the packages bearing cartoon characters than the food they pulled from the plain packs.
This research could have intriguing implications for marketers of food products geared toward children. One recent example is the cartoon-like pouch for Dole's Squish'ems! vitamin-enriched fruit snack.