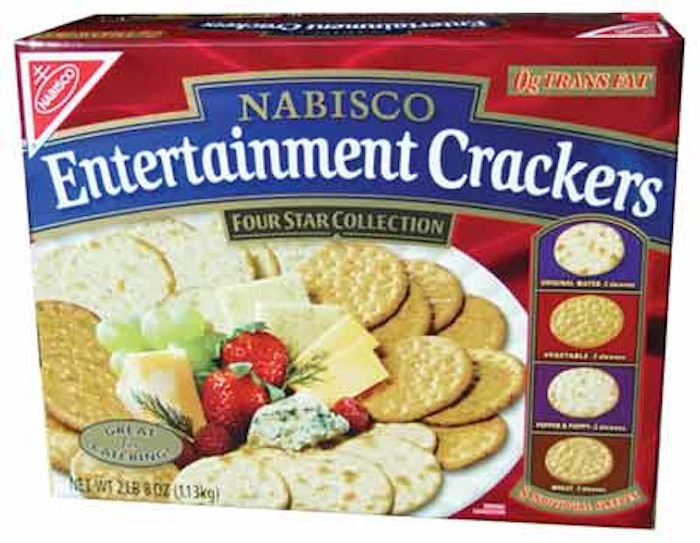 And because this particular package was destined primarily for club stores and other mass merchandising channels, Kraft also wanted packaging that would deliver the "disappearing pallet" effect—i.e., secondary packaging so durable there is no need for tertiary packaging, so as consumers pick packs from the pallet, the pallet "disappears."
Graphic Packaging Intl. (www.graphicpkg.com) met Kraft's needs by combining two of its proprietary technologies into a material so unique it was named Metallized Product of the Year in the annual competition sponsored by the Association of Industrial Metallizers, Coaters and Laminators (AIMCAL). The innovative solution brings together the visual impact of Graphic Packaging's Composipac product and the high strength of its Z-flute paperboard. The first step, reverse gravure printing on metallized polypropylene, is a separate process done offline. Then, in a single pass, this film is adhesive laminated to a 26-pt Solid Unbleached Sulfate while at the same time the opposite side of this SUS has laminated to it strips of Z-flute paperboard, which consist of 26-point SUS adhesive laminated to 18-point SUS. Die cutting these artfully combined materials into container blanks completes the process. The finished container is a partial overlap flap top and bottom. Slugs of crackers are loaded manually and then the flaps are hot melt glued. A tuck-tab reclosure feature like the ones found on cereal boxes lets the consumer close the container.
Introduced by Kraft in the last quarter of 2005, the package has been warmly received by consumers.
—Pat Reynolds
Companies in this article