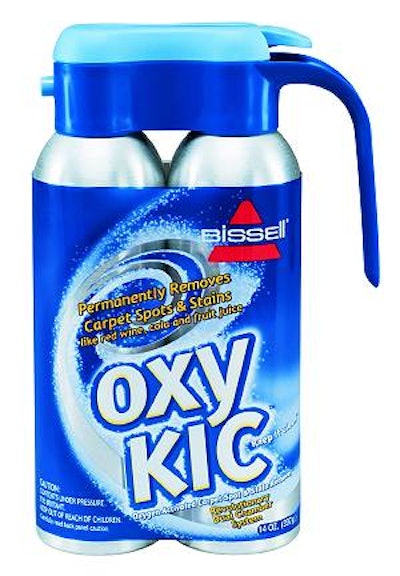 Bissell Homecare's OxyKic, a patented, dual-chamber spot and stain remover, won the AmeriStar Best of Show Award, sponsored by Lansmont Corp. "We're honored to have won this prestigious award," says Eric Hansen, Bissell director of chemical development. "It's validation of extensive market research and product development that has delivered a revolutionary carpet spot and stain remover that solves unmet consumer needs."
The product's actuator is specially designed to combine the two canisters of formulas, one oxygen-based and one a grease-fighting formula, into one effective spray.
The two metal canisters from Alentuy Aluminum Containers are secured together by a custom, curve-handle actuator from China and wrapped with a graphics-carrying 2-mil polyvinyl chloride film Seal-It printed in six colors. The cans' aerosol valving is from Precision Valve.
"With OxyKic, consumers no longer have to buy different products to clean different types of stains," says Jim Krzeminski, Bissell senior vice president, product development, sales and marketing.
Bissell product manager Rhonda Frisbey points to three key package attributes that set the packaging apart: an easy-to-use trigger that takes little effort to spray; delivers a powerful formula; and an ergonomically comfortable handle molded of polyethylene. OxyKic is contract packaged by Accra Pac via a custom assembly process.
OxyKic was two years in development and launched in late summer 2003 to retailers nationally where it sells for $4.99. Asked about the product's success in the market, Bissell responds, "The combination of the package design and product has provided uniqueness at the retail shelf that has enticed consumer purchase and delivered very positive feedback on its performance."
Snacks sacked
The Frito-Lay 24 Sack won the 3M Integrity Award, which recognizes "packaging that scored the highest in economical packaging, ecologically efficient packaging, product protection, and marketing," according to IoPP.
The Frito-Lay Sack is a convenient 14''x14.5''x5'' bag supplied by the Banner Div. of Bemis that holds a 24-count of snack packages. It is made of a coextruded blend of linear low-density polyethylene. The handled variety pack offers consumers a compact, pantry friendly format with perforated easy opening. The flexo-printed sack offers enhanced shelf presence versus the shrink-wrapped corrugated tray it replaces in all but club stores. Package weight was reduced by 85% and the billboard increased more than 300%, F-L reports.
The new format generated a 30%-plus increase in sales since its national launch in early 2004 at supermarkets and mass merchandisers where it sells for up to $6.99, according to F-L section manager of packaging Marty Dierl. The Sack Pack borrows a package concept used for diapers, Dierl says. The 24 Sack is contract packaged at various locations nationwide.
51 AmeriStars bestowed
These two major awards bestowed on Bissell Homecare and Frito-Lay were among the 51 AmeriStar winners selected from more than 135 entries.
A breakdown of winners selected by 25 industry experts from the mid-August judging by category is as follows: 15 winners in the food category; three in food–institutional; three in beverage; four in health & beauty aids; two in household products; one in outdoor & gardening; two in electronics; one in displays; four in other retail; five in pharmaceutical/drug; four in medical device; four in industrial/commercial; one in promotional; and two in other packaging. Winners are automatically entered in the WorldStar awards competition.
The AmeriStar Awards reception for the 2004 winners will be held during PACK EXPO International on Tuesday, November 9, from 5-7 p.m. at the Hyatt Regency McCormick in Chicago, IL.
For more information and a complete listing of winners, visit the IoPP Web site, www.iopp.org.
Companies in this article