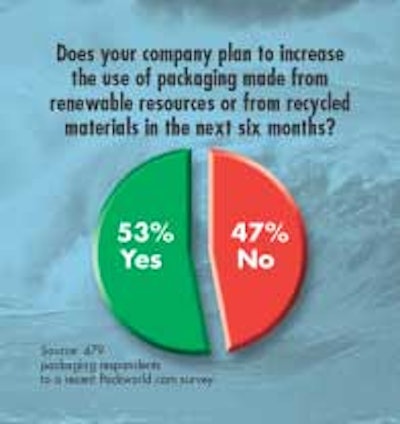 That observation is based on the increasing number of press releases, e-mail, and calls to Packaging World about commercial applications using such "green" packaging materials.
The momentum is also evident in the results of a recent Packworld.com survey (see chart).
Separately, the first meeting of the newly formed Sustainable Packaging Coalition was held June 24-25 in Seattle, WA. Among the end-user packagers were Estée Lauder/Aveda, Johnson & Johnson, Microsoft, Nike, PepsiCo, and host Starbucks Coffee Company. For more information, visit www.sustainablepackaging.org.
Here are some recent applications involving packaging made from renewable resources:
• The use of Cargill Dow's NatureWorks™ PLA, packaging made from corn, continues to grow. Farm Fresh, a division of SuperValu; EarthFare, a natural foods retailer; and several New York specialty chains are among the most recent retail users of the clear material.
• Organic brownie producer Raw Indulgence, Ltd., Ardsley, NY, and organic soap maker Tikvah, Petaluma, CA, are using NatureFlex™ biodegradable and compostable film made from wood pulp and supplied by Surface Specialties UCB. The film is customized for both companies, incorporating different barrier properties and moisture vapor transmission rates.
• Game packaging for Sony and Toyota's automative parts packaging uses starch-based Green Cell biodegradable foams from KTM Industries.
• A food company in France is using packing pellets made from starch-based cereal grains from Clextral. —JB
Companies in this article