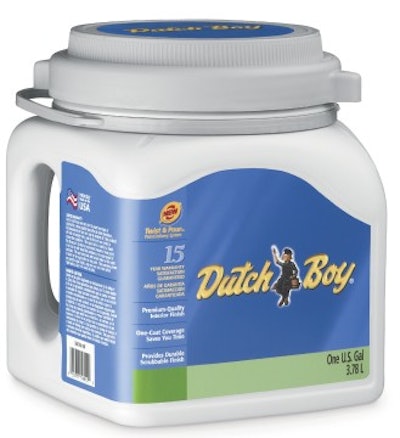 Winners will be recognized at the AmeriStar Awards Reception, to be held Nov. 6, 2002, during PackExpo International in Chicago.  For details about the reception, or for tickets, click here.
Twist & Pour Paint Container
Best of Category: Household Products
Best of Show
The Sherwin-Williams Company's 1-gal square, all-plastic blow-molded paint container features a comfort handle, convenient pour spout, and twist-off lid requiring no tools to open or close.
Supplier: Not available
Thermoformed Clamshell for an Ink-Jet Printer
Best of Category: Electronics
3M Integrity Award
This printer sells in a reusable, easy-to-carry thermoform clamshell. The outer shell and internal cushions are molded from PET-based materials. This package is designed to protect and display the unique qualities of Hewlett-Packard Company's DeskJet 3425 ink-jet printer. The design also allows the units to be stacked for merchandising display and sale.
Supplier: Not available
Nestle Retort Baby Food
Best of Category: Food
This is the first clear retort pouch with laser scoring for easy opening. It is a high-barrier, non-foil stand-up pouch for long shelf life of eight varieties of baby food. The retort pouches replace glass packaging.
Supplier: CLP Industries, Ltd.
Phone: 972/5-351-7345.
Nestle Buitoni-brand fresh pasta
Best of Category: Food
A UV light-triggered oxygen scavenging film, reduces product spoilage. Cryovac film also increases shelf life by more than 50%, and expands retail sales opportunities for Nestle's Buitoni-band pasta.
Supplier: Sealed Air Corp., Cryovac Div.
Phone: 864/433-2301.
Star Wars Clone Crunch overprinted hologram carton
Best of Category: Food
This promotional product, Star Wars, Episode II Cereal from General Mills, Inc., features a new technology carton that includes a holographic image, registered to the graphics, which creates a prismatic motion effect at the retailer's shelf.
Supplier: Not available
Quad Seal Pouches
Best of Category: Food
New product introductions for of Pillsbury, Home Baked Classics and Green Giant, Vegetables and Sauce from General Mills, Inc., have both benefited from the crisp "stand-up" appearance of Stabilo Seal® pouches, providing significant shelf presence in the frozen food market category.
Supplier: Rovema
Phone: 770/513-9604.
Big Eats Deli Package
Best of Category: Food
This packaging was designed to complement a new line of fresh food products. The use of natural kraft paperboard and ingredient illustrations communicates freshness and showcases the product.
Supplier: Mitsui Bussan Logistics, Inc.
Phone: 214/561-0402.
"Go-Snacks" Package
Best of Category: Food
Frito Lay's shaped containers protect product, fit car cup-holders, and provide a serving bowl style closure. Designed to be crush-resistant, portable and "backpack-friendly." Streamlined package with vibrant graphics.
Supplier: Not available
Supreme Landshire Sandwiches
Best of Category: Food
Thanks to intelligent structural packaging, appealing graphics, consumer research and old-fashioned hard work, Landshire has grown from serving the Midwest for 40 years to national distribution.
Supplier: Not available
Companies in this article