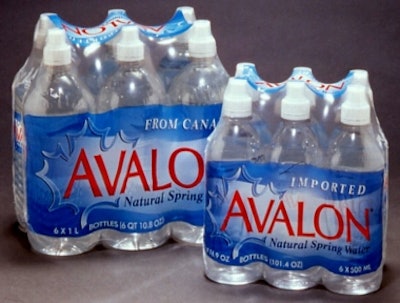 Avalon says that switching from open cartons to a shrink-wrap helps eliminate random sampling and broken six-packs.
Avalon's proprietary, shaped bottles, which are topped with a sports cap, are shrink-wrapped in eight-color, flexo-printed low-density polyethylene film supplied by Sonoco (Hartsville, SC). According to Avalon, the new bold blue, red and white shrink film adorned with a maple leaf logo makes the product stand out on the beverage aisle.
The six-packs of 500-mL and 1-L bottles were introduced in October 2000 and are available at supermarkets and club stores throughout the United States and Canada.