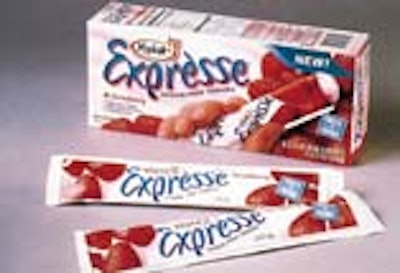 In August, the Minneapolis company introduced Yoplait® Exprèsse™ yogurt for adults in a 2 ¼-oz tube sold in eight-count paperboard folding cartons. Exprèsse's national rollout began in the Western U.S. It follows the successful launch two years ago of Go-Gurt® children's yogurt in a tube.
The Exprèsse eight-pack comes in four flavor combinations, retailing for $2.59 in the refrigerated dairy case. "We think that Exprèsse will revolutionize the yogurt category for adults [the way] Go-Gurt did for kids," says Beth Lyman, Yoplait marketing director. Made with real fruit puree and no artificial flavorings, Exprèsse can be eaten refrigerated or frozen.
This month, General Mills introduces nationwide its Gold Medal All-Purpose flour in a resealable pouch with a Zip-Pak® zipper from Minigrip/Zip-Pak (Manteno IL). Pam Becker, senior manager in public relations, tells Packaging World the 4 ½-lb stand-up pack gives consumers a wide opening that makes it easy to scoop out product without creating messy flour dust. It was test-marketed in St. Louis last year, Becker says, and retails for $1.54, the same price as the product's 5-lb paper bag. No additional packaging details were available at press time.