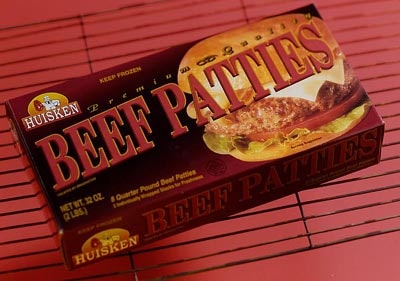 Unlike most such patties, these are irradiated, via electron beam treatment. Sold under the Huisken and Taste Club brands, each 2-lb, 8-count carton contains two film-wrapped and sealed 4-packs. Hot sales since the mid-May launch in Minnesota's Twin Cities encouraged Huisken to expand distribution into four neighboring states. That reception was not unexpected, says sales manager Cliff Albertson, considering the positive response the firm has received in prelaunch.
The cartoned and cased frozen patties are shipped to a facility in Sioux City, IA, for irradiation via a system from SureBeam Corp. (San Diego, CA). There, Albertson says, product can be unloaded, irradiated and reloaded within an hour. "The dose is extremely tightly controlled for maximum and minimum," he adds. The products retail for up $5.29, carrying about a 60 cent premium over Huisken's nonirradiated burgers, he says.
Albertson notes that by printing "treated by irradiation" copy on all six carton panels the package graphics exceed government requirements for irradiated foods Yet, excepting a special emphasis on the back panel, the carton graphics seem to downplay the irradiated aspect. "Beef Patties" in letters 1 3/4'' high on the front panel is accompanied by letters about 1/16'' tall stating "Treated by irradiation." The company makes hay on the back panel, however, with explanatory copy that states in part "To assure your safety and satisfaction with this package of beef patties, we've taken extra measures through the Surebeam process of 'electron beam irradiation.' This process helps eliminate food-borne pathogens.'' The required radura symbol is accompanied by an optional SureBeam logo.
Companies in this article