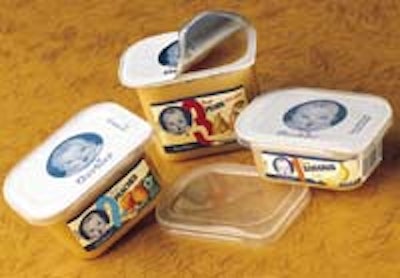 oz and 5 oz. Fremont, MI-based Gerber Products Co. isn't commenting on the packs, which are believed to be in a test phase only. But industry sources indicate that the rectangular plastic containers are formed, filled and sealed aseptically on equipment supplied by Hassia (Morganville, NJ).
Foil lidding—decorated with the image of the famous Gerber baby—is topped by a clear, snap-fit overcap. Front-panel labels tout a "nature lock™ cooking process." Labels are on three sides, except in the case of the smallest container, which has a fourth label that lists ingredients. The resin code on the bottom of the container is "7-Other," which would indicate a multilayer barrier structure.
When the packages reached Packaging World offices in late April, the "use-by" date printed on the container bottoms was December, 2000, so shelf life would appear to be nine months or more.
Companies in this article