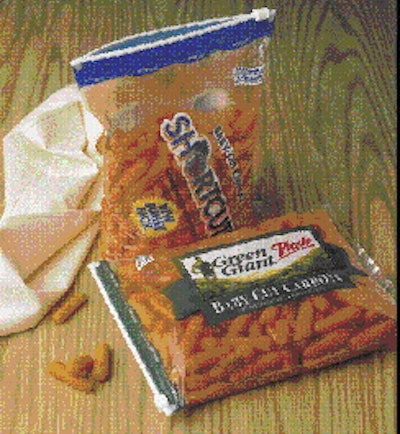 (Lake Forest, IL).
Bolthouse uses the sliding zipper on 2-, 3- and 5-lb bags, for its own brand as well as for Pillsbury's Green Giant®, the latter through a licensing arrangement. The third-generation packer fills carrots into pre-made bags. The Slide-Rite zipper includes polyethylene male and female "tracks" and an injection-molded polypropylene piece that slides along the zipper to open or reclose the bag. For Bolthouse, the zipper also includes a tamper-evident membrane below the zipper.
Pactiv heat-seals the zipper profile to the bag, which it forms from rollstock supplied by Bemis (Minneapolis, MN). Bemis flexo-prints the 2.5-mil low-density PE film in up to eight colors. Bolthouse fills the wicketed bags through the open bottom and heat-seals them closed.
"We fill and seal the zippered bags on the same high-speed equipment we have been using [for other zippered bags]," explains Andre Radandt, the company's vice president of marketing and sales. The company wouldn't identify the machinery nor describe the process, citing competitive reasons.
Tim McCorkle, the company's director of sales and marketing, admits that this zipper "costs substantially more" than other zippers the company has used, "but the consumer wants the easy opening and positive closing this zipper provides." He says the new zipper also provides a competitive advantage among carrot producers.
Companies in this article